How One Audio Engineer Quit his Day Job and Got Work with Chart-Topping Producers and Artists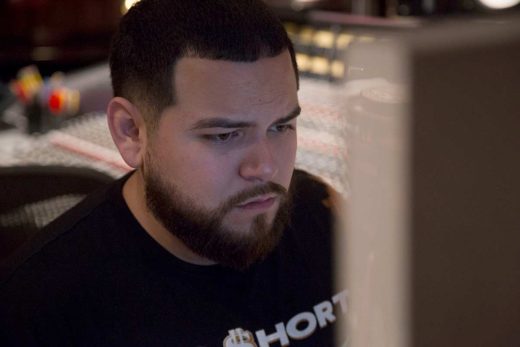 Prior to starting Recording Connection,
Morning Estrada
(Los Angeles, CA) had entered college with plans of getting a degree in mechanical engineering. "All through high school I really excelled in my math classes. So I thought mechanical engineering would be for me… My father has a very mechanical background. He didn't go into schooling at all, but works on planes. He's very handy with his hands and very, very dedicated to his work. So that's kind of where he pushed me to go. He was like, 'You get your degree, you'll get in higher places, a better job'… But as I started going to school, it just wasn't me. I didn't see myself doing it. I wasn't, I guess, intrigued. It didn't catch my attention. I was bored in the class. I stopped even going to classes at times."
All the while, Morning's love of music was a given. He'd been a diehard music lover all his life, yet the possibility of working in the industry had never occurred to him. "That was my thing. I just would buy CD's and read where they record, the studios and what area they were in. The engineers, I would read about [them] and the producers, the writers. I would love to open up a CD and just read all the credits…as I bought different CD's…[I] started noticing certain names would pop up and stuff. Like, oh, that writer was part of this song too. That's crazy, and they're totally two different artists, two different parts of the world."
Finally, after taking a few electives in college, Morning says he gained awareness of just how much music meant to him. "It just kind of started connecting," he says. "Like it just naturally, organically happened."
With a vision in his mind's eye of the path he wanted to pursue—a career in audio engineering—Morning started researching various schools online but was discouraged by what he found. "I was actually to a point where I was like, 'You know what, this is probably not going to be for me. It's too expensive," he says. "That's when I found you guys.
What really struck me was the fact that you actually do a one-on-one mentorship instead of like the other schools. So it was different for me to hear the way your school was structured. It was like, whoa, I can actually learn one-on-one and it will actually be more affordable for me to be put into a studio right away…It was like a no-brainer at that point."
What came next was an interview with his soon to be mentor, Donny Baker, at ES Audio (Los Angeles, CA). Donny's a longtime Recording Connection mentor who's known for going the distance for dedicated students. "He first interviewed me and asked me what I was passionate about and asked me how much [time] I wanted to dedicate to it, what I was doing also outside of the music. He's like, "What's your day to day type of thing?" And I explained I worked at fulltime at Bank of America. So he just said, 'Okay, well do you feel like you can dedicate some time to this?' And I was like, 'Yes, of course, of course,'… He's a really good guy."
After starting Recording Connection and his externship with Donny, Morning's day-to-day life became focused on two things: working his day job and growing his skills as audio engineer through constant application. "Any chance that I had, any downtime outside of Bank of America, my work, I would try to record. It really just was all practice, practice, practice, practice until I couldn't stop. And eventually there was a point where I would go to work and would be like, 'I can't wait to leave to go work on more music.'"
By the time Morning graduated, Donny was calling him into do sessions at ES Audio, especially when hip hop artists wanted to record. Not wanting to lose momentum, he also made it a point to keep going by working as many freelance gigs as he could in various studios throughout the city, even interning at an LA-based label's recording studio. "They had a few signed a few writers, like one or two artists, and then a couple producers. And basically I was there every day. If Donny didn't call me, I pretty much was over there for like four straight months."
It was around this point in time that Morning decided it was time to quit his day job. The truth of the matter was that he had elevated his game as much as he could, given his limited availability. Since he was still living at home with his parents he was sure to have a roof over his head. It was a decision his ex-mentor Donny supported. Focusing solely on the work ahead was the next logical step in his journey, the culmination of the passion and work he'd invested thus far.
Morning remembers he was heading out for the night with couple of friends when he got the call from Donny asking if he could work a session starting in two hours. Considering how hard Morning worked, a night of revelry was arguably well-deserved but the aspiring engineer didn't hesitate at saying yes. What happened next would change his world.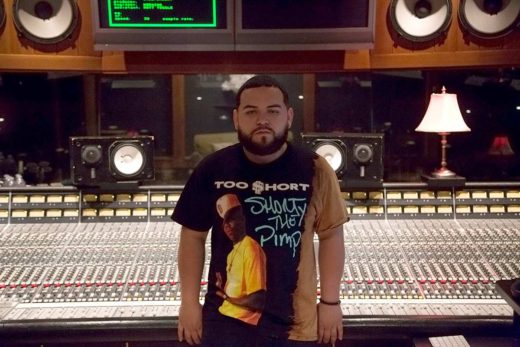 "I walk into the studio and it's Trinidad James…We had the session…I think we recorded, like, two, three songs that night. And at the end of it all, [Trinidad] said, 'I really like working with you. There's a nice vibe. I felt like you have everything under control here.' And I was like, 'Okay, thank you. I appreciate that.' …After maybe a couple sessions he asked me, 'Hey, would you mind being my engineer out here in L.A. whenever I come to L.A.? I'm looking to move here in the next month here as well. So you definitely would be more of my day-to-day engineer.'
And of course, ecstatic, I'm like, 'Yeah, heck yeah. Of course, I'll be there.' He also asked me, 'Hey, are you knowledgeable maybe setting up a studio at home for me?'… So I took Trinidad to Guitar Center, we bought him a whole setup, and we would record at the house, like, every day when he first got here… at this point we've probably got way over 100 [songs] now, and just countless hours of work."
In just the past year Morning has worked with numerous players in hip hop, pop, and R&B. He recorded artist Jessie J for her highly-anticipated upcoming album, produced by Camper (Mary J. Blige, H.E.R.). Connecting with producer Hitboy (Beyoncé, Rihanna, Jay-Z, Kanye West), Morning recorded and mixed multiple songs for
Good for You
by artist Aminé. Working with producer Frank Dukes (Jay-Z, Drake, Frank Ocean), Morning also recorded the chart-climbing album single "Never Be the Same," on former Fifth Harmony member Camila Cabello's debut studio album,
Camila
. Other artists he's worked with include Nelly, 50 Cent, Tech N9NE, Linzi Jai, Marsha Ambrosius, Noah Cyrus, Mr. Porter, and more.
Now with a thriving career as well as his own place and mixing room, Morning's even getting flown-in to work on various projects, including one with producer Mr. Porter (Eminem, Dr. Dre, and 50 Cent). While experiencing the satisfaction that comes from living his life's purpose, he's staying humble and gracious about his success. "The labels will call me like, 'Hey, the producer says they only want to work with you, or the artists only want to work with you. Can you do a session?'… At this point, yeah, I have no complaints. It's just all a blessing to wake up and do music."
So what advice does Morning have for current Recording Connection students?
Morning stresses the importance of staying dedicated, getting in the studio as much as possible, and saying yes to work. "Come in as you can…If they can be there every day, if they can only be there on the weekends, if they can only be there at night because they have work during the day, I think the biggest thing is being there, because you never know…None of the opportunities were ever planned. They just kind of happened because I was there or I picked up my phone…You just need to be really dedicated to it. I think that's the biggest thing."
* * * * *