Scott Johnson lands job at Infinite Music in Boston,
works with Charli XCX!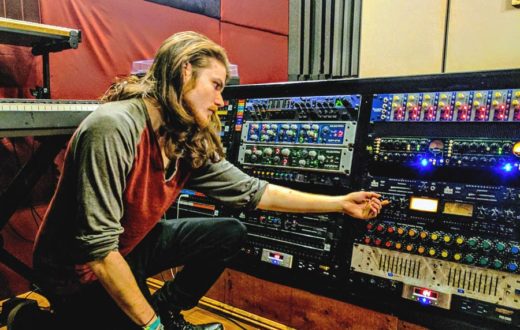 Working hard, honing his skills and staying connected—that's the name of the game for Recording Connection grad
Scott Johnson
. Those qualities recently not only helped him land a job at his former mentor's studio, but also to score his first major artist credit, recording for pop star Charli XCX!
Many Recording Connection students end up getting hired by their mentors, but Scott made enough of an impression on his mentor—Steve Catizone of
Infinite Music
in Boston—that Steve held a job offer open to him even after he moved away for a year.
"I knew I wanted to go back to New York for a little while, just because I'm from there, when I finished up the program,"
Scott explains.
"So I told him, 'Look, I'm going to go do the advanced program down there, but I'd love to come join the team when I come back up.' And he said that he was excited to bring me aboard."
Scott's passion for recording, mixing and studio work came to him early in life.
"I fell in love with the environment, you know?"
he says.
"I knew I was always interested in music and I knew I liked tracking and mixing…I didn't think I was ever going to be professional musician because as much as I like it, I sort of just don't think I'm good enough…But I like being around, working on music, and being creative. And doing something in a studio environment allows me to still work around music, and especially on the mixing side of things, there's a million different ways you can mix records. So there's plenty of creativity involved."
Once Scott decided to pursue audio engineering seriously, he soon figured out the college route wasn't for him.
"I had been in college doing a lot of stuff, but I knew that wasn't leading me towards anything I actually wanted to do,"
he says.
"So I left and did Recording Connection instead."
The Recording Connection's hands-on training approach really helped fill in the gaps for Scott.
"I came in with a pretty good grasp of how things worked and how to use them intellectually,"
he says,
"but I didn't have as much practical experience applying it…It was really just an opportunity to get in there and use actual equipment and work with someone who knows what they're doing."
Working with Steve at Infinite Music, and then doing the master's program with Mark Christensen at
Engine Room Audio
in New York, Scott says he learned about much more than just the technical aspects—he learned about dealing with clients as well.
"One of the things that I realized while doing Recording Connection is how important things like vibes and environment are to art,"
says Scott.
"So I'm very careful about how everything is in the studio, and making sure that they're comfortable when they come in. And usually, as long as you're cool, and calm, and relaxed, and you put them in a cool, calm, relaxed environment, and you just make sure that they have everything that they could need, I find that you can come up with some pretty good takes of them pretty quickly."
That sense of meeting the client's needs came in very handy for Scott recently. Not long after coming back to Boston to work with Infinite Sound, he got an interesting call from his boss and former mentor.
"Steve had asked me if I was available just to do a session for two nights over a Saturday/Sunday,"
he says.
"And I was like, 'Yeah, sure, no problem,' and he gave me the times. And then at the end, he was just like, 'Oh yeah, and by the way, it's for Universal.' And it turned out it was Charli XCX. So that one blew my mind a little bit. I wasn't expecting that at all."
The feedback from the session was positive.
"Steve told me she left happy, so he was happy, which meant I was happy,"
says Scott.
"I was honored he had the faith in me to put me in charge of the session because he certainly could have done it himself. But now I've officially got a label credit under my belt, and that was awesome to work with her."
And that's not all; Scott's training has also paid off for him with another job working live shows in Boston for
Bill Kenney Productions
, a job that has even led to health insurance benefits and a recent opportunity to set up for Marc Anthony when he came through town!
"They have their small touring crew that, or any artist does, that goes from stop to stop,"
says Scott,
"and then they hire a local crew at each location. So we do everything from unloading the trucks to hanging the PAs, building video walls, hanging lights, to running all of the cables. I was on the audio systems crew…and he did the show in the Round… I've been pretty lucky. I've been getting my music fill on the live side and on the recording side."
Now working full time in professional audio, Scott is thrilled to be doing what he loves.
"I just always liked the idea of helping somebody realize their musical vision so people can hear it,"
he says.
"It's my job to get it from somebody's head to a consumer's ears. And I like being that bridge and help people get stuff physically out into the world the way they want it to sound."
Any advice for up-and-coming students?
"Honestly, you just got to like live and breathe it, you know?"
he says.
"People say you need 10,000 hours to master anything. I don't know if it's true that you actually need 10,000 hours, but you certainly need a lot. And if you're only focusing on audio once a week or twice a week, like maybe this isn't necessarily the program for you. You need to be someone who comes in and just works on this all the time, because that's how you get better. And when you work that hard on things, people notice, you know? I mean, Steve saw me engaged and working on stuff, and asking a million questions. And that's how he knew I was committed and now I have a job."
* * * * *