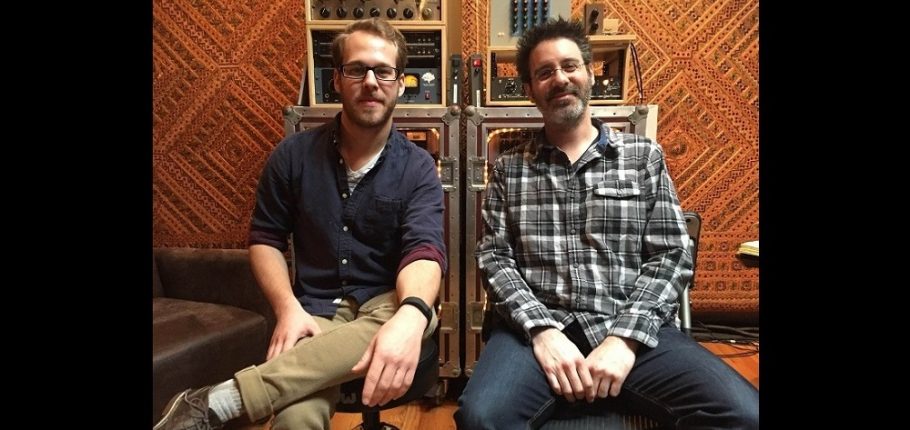 Imagine what it would be like to study audio engineering in a world-class studio under someone who had worked with some of your favorite bands. This is exactly what happened with Learn From Legends scholarship winner Travis Ball when he found himself apprenticing in Nashville, TN with Grammy-winning audio engineer Ryan Hewitt.
"Back in middle school I was into blink-182," says Travis. "Their self-titled record was engineered by Ryan…When I found out when I was doing research online [that] he engineered and did a mix or so, I was like 'You gotta be freaking kidding me?' I listened to this record on repeat for all of my middle school and early high school time…[It] made me really excited to work with him."
Travis was already serious about pursuing an audio career in Nashville, had worked with a few clients here and there, and had even had the opportunity to travel with alt-rock band Mae as the front-of-house engineer for the 10th anniversary tour of their album Everglow. But even so, he found he was hitting a wall, not just with his skills but also his connections.
"I was having a hard time," he says. "It's challenging, really is challenging to get involved with some of these people and get on their radar."
But when he attended the Pensado's Place Vintage King Expo in Nashville last year, he found the Recording Connection booth and got acquainted with the program. They were offering a new scholarship program with Pensado's Place, so he decided to apply. After a few months and a couple of follow up calls, he got word he'd landed the scholarship, along with the opportunity to work with Ryan!
Within the first few sessions, Travis knew he was in the right place to up his game.
"I am able to incorporate things that I have learned," he says. "For example, [Ryan] does some process on drums, where I decided to try a version of that. Not as in copying him, but 'Ok, I can do this. I wonder if this idea would work for this song in this way?' Picking up these little things that you can have in your back pocket…when you are working on your own projects."
Beyond that, Travis is also learning invaluable lessons just by watching Ryan work with his clients and run a business. "These people, they are their business," says Travis. "Ryan is his own business. What he does between his clients and his client's music is important, and he has been very meticulous how he does everything he does. Everything he does is for a reason."
Now that he's "learning from a legend" himself, Travis has this advice for other students:
"Always pay attention to what is going on," he says, "even the most subtle things, whether it's about actually making music or not…Write down questions, take notes, and keep your eyes open, because it's all important and all relevant."
School for People Who Hate School
Charles Huston Makes his Mark in Hip Hop