From apprentice to A$AP Rocky:
Alexa Cooper gets into the audio touring circuit!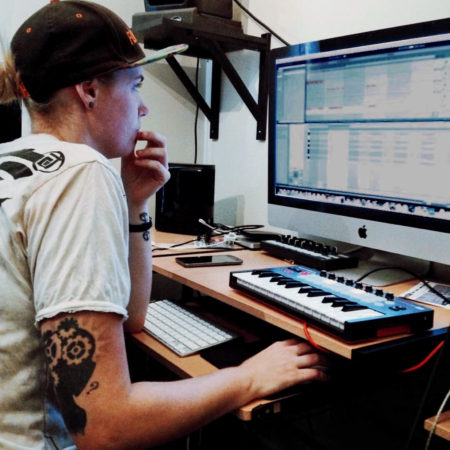 Occasionally, when you're learning on the job, the connections and the opportunities may even outpace your studies. None more so than
Recording Connection
student
Alexa Cooper,
who found herself thrust into the live touring world soon after starting her apprenticeship with mentor Kaj Falch-Nielsen at
Blue Light Studio
in Vancouver, BC.
"I was living in Vancouver doing the program, and even before I could finish…I got a job within a couple of months through the connections I made,"
she says.
I started working in live events and working with some really big names. I have set up AC/DC, I've set up a private show with Katy Perry, I've done Dave Matthews…I've worked with a lot of shows."
Landing those gigs gave Alexa plenty of work experience she'd never have gotten in a traditional school. She describes some of her responsibilities:
"I set up the audio, where I actually set up the physical PA speakers and run XLR cables to get the signal to the speakers,"
she says.
"I'll also do lighting, I've moved up really fast in lighting. I also do video and LED walls. Basically anything that it takes to set up a concert, like a major arena concert, I've done."
Things continued to move fast for Alexa, and as she planned a move from Vancouver to Southern California, the connections she was making paid off for her yet again, through a chance conversation she had while working on a show.
"I just started talking to this guy,"
Alexa explains,
"and he was asking me, 'Who are you? What do you do?' I was like, 'Well I'm moving to LA soon.' He was like, 'Are you kidding? That's where we're from. Hit us up, we'll get you a job.' The guy kept his word, he gave me all his info, I showed up, and on his day off for, like, three months he walked me into the shop, had me shake hands, and within a week I had a job."
The job was with VER in Los Angeles, a pro equipment shop that provides audio, lighting, rigging and computer gear for some of the world's biggest arena tours. And the opportunities didn't end there; remarkably, within a couple of weeks of starting at VER, Alexa had a chance opportunity to be sent on an arena tour with artist A$AP Rocky!
"They needed someone, it was kind of a last minute emergency,"
she says.
"Typically when you go and start working for them in a shop, it takes at least six months before they put you on an actual tour. Since they needed somebody and they…my name had been popping up a lot, they asked if I could do it, and I had only been working for two weeks with them… Now that I'm on the actual gig, they fly me out and put me in hotels wherever I go…it's a festival tour, so whenever he's got a show, they fly me out."
How did she do it? It sounds like a dream, in some ways, or just a long stream of good luck. However, there's more to the story of Alexa's rise to success in live touring—a secret she figured out, which every Recording Connection student should take note of.
"In the industry that I'm in with live events, for every 15 people that come in, there's one that's proactive,"
she says.
"The other 14 are not really that good at what they do and not trying to get better. So if you put even that small amount of effort forward, you're going to stand out like crazy…You've got to be willing to put in work and not just look at the pay check…I've gone to gigs and not been paid. I've shown up with some of my employers on days and been like, 'Hey, I want to learn more about this, can I just come in and shadow?' I'd go in, and I would work gigs and I'd be fully doing what I do when I'm getting paid and not getting paid. That's completely recognized. That got me more gigs. That moved me up. I moved from regular stage hand to department head of lighting in a matter of months."
It took her awhile, working around the gigs she landed, but Alexa eventually finished her studies at the Recording Connection, which she fully credits as her entry point to a new career.
"I think the most awesome thing about it,"
she says,
"is that you actually go in the studio and you make real connections. If I hadn't gone into the studio and met all the guys that I met in there, the one that just nonchalant one day, brought up this job, I would have never known the job existed. That's the thing that I really like about it. It gets you in there with actual people…It's the actual connections that get made."
As for Alexa—even with her success in the live tour circuit, she still has plans to put her newfound skills toward some goals of her own.
"I have a lot of plans actually for the future and things that I want,"
she says.
"I am currently building my own studio. I just went out and bought some recording equipment, and I moved into this room that has a walk-in closet and I am turning the walk-in closet into an iso-booth. Even though I'm working with established artists and their shows, I still want to harbor my music. My ultimate dream for myself is I want to perform. I've got my vision boards, I've got all these things I specifically want and want to do. That's definitely where I want to go."
Considering the success she's already achieved with her go-getter attitude, there's little doubt she'll reach those dreams.
* * * * *