Recording Connection students Dive into
Concept and Collaboration with Adam Moseley and Fender!
Fay Garrison
and
Uriel Soto
each make the drive to the
Fender Musical Instruments Corporation Headquarters
for something very special– the opportunity to train and collaborate with renowned engineer/producer Adam Moseley (Beck, Nikka Costa/Lenny Kravitz, Wolfmother, Spike Jonze, U2). Under Adam's mentorship, Fay and Uriel are collaborating on a track slated for release and it's all happening thanks to Fender who has graciously sponsored tuition for the two recipients!
Brian Kraft, Recording Connection's COO, champions the Fender Musical Instruments Corp/Recording Connection Experience as an exciting opportunity with tremendous potential:
"We can think of no better way to show our continuing support for trusted brands like Fender who are paving the way forward in music making than to partner up for this stellar opportunity and enable two gifted and deserving individuals to advance their knowledge and build their repertoire and industry experience by working with this sought-after master of mixing, engineering, and production."
Electronic music producer Fay Garrison and audio engineer Uriel Soto Jr. are both graduates of Recording Connection and are professionals in their own right. Fay credits her mother for championing her musical education and supporting her choice of career 110% saying, "She worked extremely hard so that I could have the opportunity to go to the conservatory for piano and violin. I'm thankful that has given me a fantastic foundation to build on with all the exciting technology we have now." After training in violin and piano at a prestigious music conservatory,  Fay decided to expand her musical vocabulary and delve deep into the creative possibilities in electronic music. Today, the multi-instrumentalist is a graduate of our 36 week Recording Connection for Advanced Ableton Electronic Music Production program. Also skilled in Logic 10 and Pro Tools, she's focused on building an exciting career in post-production and making "music that is expansive" for film and television.
A gifted keys, guitar player, percussionist, and a graduate of Recording Connection's beginner and advanced audio programs, Uriel Soto launched his career in audio when he landed a coveted staff engineer position at ES Audio, the same studio where he trained. Now, with dozens of projects and a number of years under his belt, Uriel is refining his skills as a producer. He's even got his own EP in the works and dubs it as a project that "gets to the roots" of his family's rich musical heritage.
We recently connected with Adam, Fay, and Uriel to get a backstage pass into how the project and process is unfolding week by week. Here's what they said.
So how did you get the ball rolling creatively?
Adam: First I just asked them to bring in pieces of music that we could consider and decide which one would be the piece we would work on. So they both brought some music in, and we listened and listened. I wanted to see which one they both reacted to out of each other's stuff. There was a clear winner for that; I could just see it from their reactions. So that's the track we're working on.
Uriel: Absolutely. When Fay and I started working with Adam we shared our productions, back and forth. Fay always showed us more cinematic [music], moving violins with very, very atmospheric sounds that I love. I thought, "Wow, that's something I can add to my stuff."
My stuff has always been more playing bass, pianos, keys, guitars, live instruments, and making pop music, funk, and more that type of music. I presented a song that, immediately when I started writing that song, doing the beats, the piano line, the guitar, laying down the basslines, I immediately thought this is something that Fay can definitely get on…This is something I hear both of us putting our strong suits into making it work. Then with Adam's guidance and what we've been learning from him, it's just been such a great experience.
Fay: It's really good to listen to other styles: to be aware. And I think what's fun is it's a challenge to take something that Uriel has done initially…then think, "Okay, how can I add on to this? This is the challenge here." And it was a good challenge, having to envision "Okay, what do I hear that could work for this that's different than my initial inclination?"
I told Uriel, "If you don't like something, just let me know. I want to know if it's not working for you?" But he said, "Oh, this is great. We're going to keep all this."…Now that we've created something together, we're hearing all of us in this piece of music.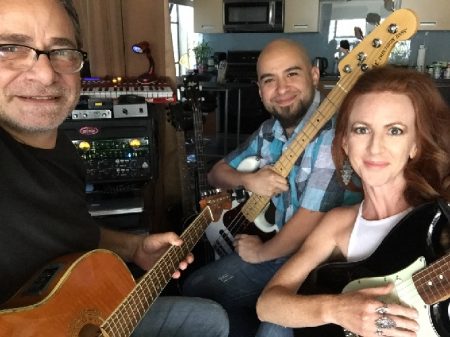 Adam, you have a steadfast adherence to concept as the bedrock of your creative approach to songwriting. Could you tell us more about that?
What is the emotional purpose of the song? Is it meant to make people happy, sad, fall in love, fall out of love, make them angry, depressed, melancholic, make them want to go out and party all night? Whatever the purpose of your song is, really think about it, define it, think about what colors and sounds and dynamics will achieve that. And then you can set about filling in the spaces of your empty canvas and creating that song that does exactly what you intended. But you have to have a plan. You have to have a concept.
How was Adam able to see where you were at, meet you at your level, then help you elevate your game?
Fay: Uriel and I both have a great awareness of mixing…When [Adam] met us and started working with us, he recognized our awareness and understanding already and basically told us "Great. You know, we can really, really push and go far because we're already there." And we're hungry. We want to know. I mean, I'm just taking notes viciously when we're in session with Adam because he's got so much to offer.
Uriel: With Adam, what I've learned more than anything is focus. Focus and to just narrow in on an idea. It's happened to me in the past that I start putting a lot of ideas together that in the beginning had a concept, and then I end up going many different directions… So Adam helped me to narrow in and focus on the concept which is great…I guess I knew it but I don't know if I just started forgetting that but it's good to have somebody to remind you and to show you that's the way to make music. He's been making music for over 40 years.
And the second thing Adam helped me understand is the mixing and how much mixing is an art. Mixing is definitely not a two-dimensional, flat plane. Mixing has so many different things going into it, height, it has depth, it has width, it has so many different things that you can add to make a great song sound even better.
So in your approach is it a question of analog or digital, or do you choose to go with both?
Adam: At the end of the day, it's the song that counts, and getting an honest performance. With old songs, people hear them, people love that were recorded 20, 30, 40 years or more ago, if it's an old Beatles song or an old Radiohead song. Technology has always changed, you know? Every 10 years McCartney could be going, "Oh, now there's more technology, now I get it. Let me go and re-record everything again." Radiohead could go back and think, "Oh my god, we did those songs so long ago. Technology is so much better. Let's redo 'Creep' or 'The Bends' or whatever." If you captured an honest, true performance at the time, it stands the test of time.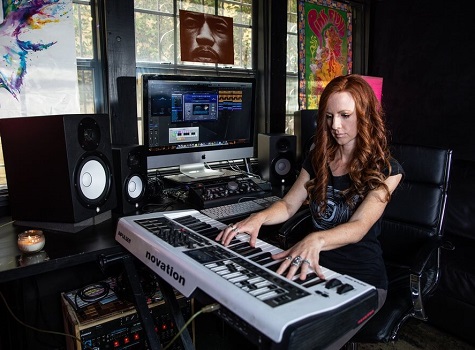 Fay: The physical [aspect of the] instrument that you play affects the sound that comes out. It's just funny because I don't think people realize that that also happens with outboard gear, you know? I honestly have to say that I never really factored that into my thinking. That a giant piece of outboard gear would have every channel cut up just slightly differently.
And those slight differences affect the entire sound of a composition. And listening to Adam talk about that saying, "Oh, you know, when we put this on [that console]" And [then Adam] he says, "You can put this on your mix" and without even turning any of the knobs, it's going to give a certain character to your piece, because it's going to add in some frequencies that weren't there before, just based on the design of the hardware…And he's showing us these tricks to just smooth out that kind of that digital edge, because, he says, no matter how pixelated something is digitally, it's still going to have that binary corner, you know, that digitized corner. So he's taught us how to add in these random noises from hardware, to help soften that.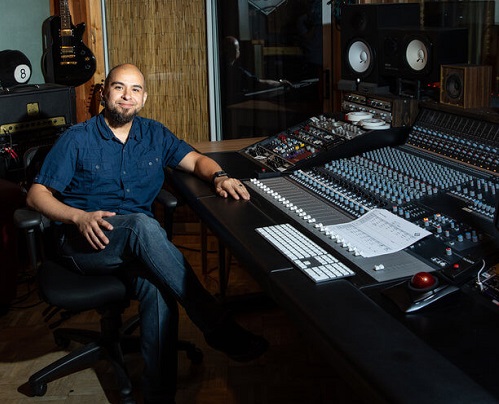 Uriel: I'd say 50/50. Even at home where I do a lot of my work, I do use some samples but if I need a bassline, I grab my bass and I record it through an amp. If I feel like I need some tambourine, I record a real tambourine. I mean, there's only so much you can get from samples but if you're hearing something and you can record it, record it. Experiment while recording, experiment with what you're listening to.
We bring in our Fender guitars, Fender basses, and it's always fun to record to something that's there in digital as an idea but then if I hear a bassline that's already recorded, let's record it, let's add some distortion, let's figure out different ways. There's always the conventional way that everybody does it but let's experiment with something different.
Fay:  I recently bought a Fender Duo-Sonic™ HS after they personally helped me pick a guitar that fits my body. Although I already know how to play the guitar, the new Fender PLAY app has been really great at helping me master different styles and expand the number of sounds I know how to make. A lot of what I'm learning is going right back into the song.
Check out our
blog
to learn more about Fay and Uriel's experiences with Adam Moseley and Fender!
* * * * *
Once a week,  LA-based Recording Connection students