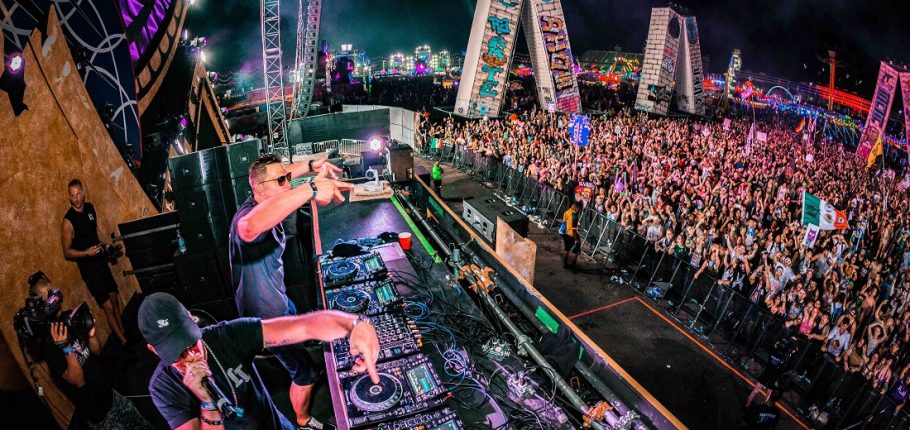 Photo by Matty Adame on Unsplash
Want to get started working in EDM right now but don't know what kind of job to look for? Whether you're a full on audiophile with ears the size of Dumbo, are a naturally gifted photographer, or know your way into hearts of EDM lovers via social media, for those who want to work in EDM, there are numerous careers to choose from.
Electronic Dance Music is, literally, a worldwide industry. For that reason it takes thousands of people to bring those shows, festivals, and events to life and to keep the culture vibrant, relevant, and wonderfully varied. Rather than shrinking from the spotlight, the world's most prolific genre has exploded over the past decade and is constantly changing the way music, promotion, and marketing get done in other music genres as well (think labels and online distribution where EDM has blazed trails). As such, there's a multitude of EDM jobs that are ripe for the taking.
Below are just a few of the EDM jobs that you can have that'll enable you to be around the music you love, make a living, and have ample fun while you're at it.
1 – Tour Manager
The main downside to being a tour manager is that it's a lot of responsibility and you're on the road a lot. It's a job that requires the ability to be detail oriented, organized, and responsive. You need to be the type of person who can think fast, communicate well, and work with a multitude of personality types. If you're good at dealing with all the moving pieces and don't get super-flustered in the process, you can do very well as an EDM tour manager. This is one rewarding job with ample opportunities for other careers in music. Not surprisingly, those connections you make are one of the major assets to having this career.
2 – Blogger/Personality
Are you someone who is a self-starter? Do you have a deep knowledge of EDM or a distinct personality and authentic voice? Well, maybe being a blogger or EDM personality is a good fit for you. It's good for entrepreneurial types, takes ample "get up and go," and little to no money up front. Yes, you will have to hustle to build a following and you'll also have to come up with a way to monetize that following. So if that sounds like you, do your research and see what and who is out there. How can you add something fresh and different to the EDM media sphere? What can you say or do that'll have people actively searching for you? Do it right and the sky really is the limit.
3 – Video Producer & Editor
Whether you want to film professional DJs and artists while they play their sets, document festivals, shoot for commercial sponsors and social media personalities, or shoot teasers and highlights, if you've got solid videography skills and the ability to provide a clean edit on a quick turnaround, you can get working in EDM. But before you run out and buy an expensive camera, remember this is a job that requires creativity, visual sensibility, the ability to network and the patience it takes to deal with people en masse.
4 – EDM artist
This is one position that's not for the faint of heart. To be an EDM artist you have to have skills, passion, drive and a signature sound that separates you from all those Skrillex and Diplo wannabes. You have to be multidimensional. You have to have an interesting internet personality, you have to be a skilled craftsperson, and you need to be constantly on grind. When you're first starting out you'll be basically a one-man or one-woman-show, booking your own gigs, making your own connections, and (oh yeah) creating the very best music you can possibly create. As a newbie independent artist, no one is going to care about you unless you make them care about you. So how are you going to do that?
5 – Live Sound Engineer
Being a live sound engineer can be hard and stressful but it can also be a whole lot of fun. Not a typical 9-5 gig, many live sound engineers take the jobs they want to take. Their flexible schedule enables them to focus on making their own music or working in a recording studio when they're not working venues. If you're good at problem-solving, embrace a challenge, and are good at communicating with artists and fellow engineers and techs, live sound just might be the EDM career for you. Like the thrill of the show? Check into live sound.
There's no shortage of opportunity when it comes to working in the EDM sphere. If EDM is where you want to be, put a gameplan in place for creating the career you want to have. If you need a job now and already know how to shoot and edit, go out and get that in-industry job now while you grow your skills as an EDM artist or DJ. Getting yourself into the right circles and building a good reputation is half the battle, so get out there and get in. The more you know, the better situated you'll be to make your way to the top.
The Audio Program for People Who Hate School