Recording Connection grad Michael Shelton: From forklift driver to music maker and studio owner!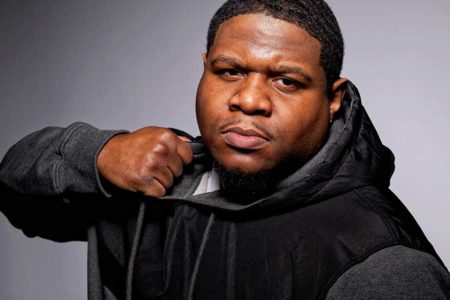 To hear Recording Connection grad
Michael Shelton
of Atlanta, Georgia tell it, a passion for music was always a significant part of his life. However, it didn't become front-and-center for him until an accident at his job forced him to rethink his life plans.
"I was working a forklift, but there was a mishap to where I was down and out for a few years for health reasons," he says. "So I was like, 'What am I going to do from here on out?'…No matter what I was doing in the world or what I was doing at that time in my life, I always circled back to music regardless. I never really stopped writing…I had a book I would write hooks in all day. So I never really lost my sight for that, but when that happened, I had to figure something out."
When Michael discovered that the Recording Connection could train him in a real recording studio in his hometown of Atlanta, he knew he had to grab the opportunity. Given his interest in rap and hip-hop, he was placed as an apprentice with noted producer/engineer Vance Vexed at
Solar Sound Studio.
Michael had had some previous experience working on his own, but he says Vance helped him get to the next level.
"He took me on as a brother," says Michael. "He'd sit me down, and the thing I learned from him, he was like, 'Just sit there and listen. Just listen and see if you can feel me changing the bass lead, the EQ frequency, or cutting out low over high to make a person sound different.' So he took me by the hand and showed me that."
Michael also says working with Vance gave him a greater exposure to the Atlanta industry itself, mainly because he understood how to act in the studio. "I was the guy that followed the rules," he says. "I didn't bug the clientele. It was all about customer service. So I did that and had a great experience. I got to work with Jeezy, Yo Gotti, got to meet Ciara. There were a lot of people I got to meet within there while I was just trying to understand the business more."
Since apprenticing with Vance, Michael has also had the opportunity to work in other studios as well. He's written and placed music of his own while continuing to develop his chops as a producer/engineer, not just in hip-hop but in other genres, as well.
"I've dealt with rock bands as well, he says. "I've dabbled in everything, R&B, even a little gospel has come through…I've actually done a live show with bluegrass. So I've had my hands in pretty much everything."
Eventually, Michael grew to the point that he wanted more creative control over the process. The result was his own studio,
M.A.S.S. Musiq
, with a mission statement to bring "back the true authenticity and art that hip-hop was founded upon."
"I kind of got tired of dealing with the maybes, the ifs," he says, "I was like, 'Hey, I can go to school and figure out how to do this.' I'm pretty savvy about that, especially on ownership of myself, especially when it comes to music. So that's how I really ended up doing it. And basically life changed when I went ahead and did it."
The studio is already getting a reputation for quality. "I actually got this from a client," says Michael. "He went to my studio and he was like, 'I just was at a $1 million studio yesterday. How does yours sound better than a $1 million studio?' And I told him, 'A lot of research, a lot of time spent.' So it's all about the quality with me."
Now years beyond working the forklift, Michael is taking responsibility for his own career, with a bright future ahead. His advice?
"Keep pushing forward if that's where your heart is," he says, "Because you can have your 9-5 and not be happy. At the end of the day, you want to be happy with what you do."
* * * * *