Recording Connection grad Robert Macias broadens his industry skills, lands Platinum album credit!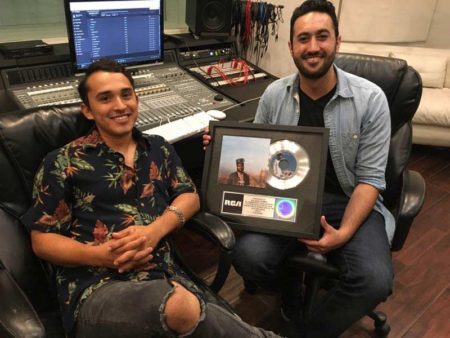 When you learn the music industry from inside it, you get opportunities you won't get anywhere else. Within months of starting his apprenticeship at
Beacon Hill Recording Studios
in El Paso, Texas, Recording Connection grad Robert Macias has landed an Assistant Engineering credit on a Platinum selling album—namely,
American Teen
by pop/R&B sensation Khalid, winner of MTV's Best New Artist VMA 2017!
Ever since deciding he wanted to develop as a musical artist in his teens, Robert has had a common-sense view about preparing himself for the industry—which is what initially led him to the Recording Connection.
"I really got into the program because I have a firm belief that the future artist is going to be…fluent in all areas of the business—the creative, the technical, and the business side," he says. "So I wanted to jump into the technical side and learn about it as much as I can, and just add that to my skill set."
Given Beacon Hill's rising reputation as a world-class studio in the El Paso area, Robert admits that he was sent to the recording studio for his initial apprenticeship interview, he was a bit overwhelmed.
"It was very scary for me," he says, "because I was like, 'Man, these guys are so cool, these guys are so big.' I was just nervous, but then it got to me and I was like, 'No, wait. I've got to shoot for the stars.'"
Robert soon found himself immersed in studio life and all the tasks it entails, and says it really helped him up his game in many ways. "I know myself in the sense that hands-on work is the best type of training," he says, "because when you're working in the field so to say, you're not just learning it in theory. You're learning it hands-on, therefore you're learning so much, your mind is registering so much more while it's building a skill set, while you're building muscle memory of what you're doing…Of course, it wasn't just like, 'I'm going to throw you to the lions to figure it out for yourself,' but sometimes it was the pressure that allowed you to push through and learn to get through those obstacles."
The opportunity to work with Khalid on
American Teen
came while Robert was studying as an apprentice under mentor Alfredo Gonzales, alongside fellow grad and now-staff engineer Orlando Gomez, whom we recently featured
here
.
"Khalid's a freaking genius," says Robert. "It also uplifts you because you're in this inner circle of successful people, so you can also borrow from what they have to say or from what you can pick out of their brain."
Because he worked in sessions with Khalid as part of his training, and because his mentor Alfredo believes in sharing the credit, Robert earned an Assistant Engineering credit on the record, which has since gone Platinum. "I was into half of the course when that happened," he says. "I'm honestly really lucky because I know that this credit doesn't happen to everybody."
As for broadening his skill set, the Recording Connection program has gone well beyond Robert's initial expectations. Not only has he learned the technical side of things as we wanted, but he's also learned about the business side, picking up morsels of wisdom that can help him to develop his presence as an artist in his own right.
"When I get to go out to eat with Orlando or Alfredo," he says, "they'll start talking about just different lucrative ideas on how to make the artists money, because CD sales aren't what they used to be. So it's all about giving your listener an experience…what kind of content to put out as an artist, and how to get noticed, how to network with different YouTubers and try to monetize your music, copyright your music, become part of a performance rights organization. There's a lot more that goes into an artist's sales funnel than just good recording, and to their success. So a lot of that is being brought to my attention, so I'm learning what's a performance rights organization, which one's better, BMI, ASCAP? Do the research. What is CD Baby? How do I get music on Spotify, iTunes, Amazon? Things like that."
Even better, as he learns in a true mentoring environment, Robert says he's become part of the studio community. "Orlando, he's going to become a life friend for me," he says. "The vibes at the studio are nothing but love and nothing but openness for creating and acceptance…Being at Beacon Hill has helped me so much. It's helped me develop as an artist, it's helped me develop as a person also, even maturing myself as a person, having nothing to do with the technical or artistic side. It's really helped me develop as a person and become more focused in understanding where I want to go and what I want to do."
* * * * *