The turning point: Recording Connection grad Mike Brown focuses on his passion to forge a new career!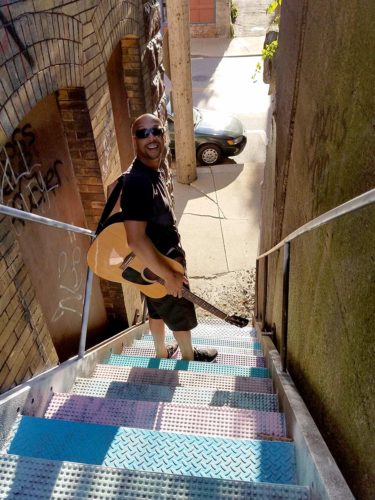 For many of us, the turning point in life comes in a moment of difficulty and crisis. For Recording Connection grad
Mike Brown
(Wilmington, NC), who had a relatively comfortable career in retail, that moment came when he went through a divorce. A rapper and vocalist, Mike says music had always been an important part of his life, but not center stage.
"I've always been dabbling in music; I've been kind of reluctant to dive in head first," he says. "It almost felt like I was making music for my health, which is a part of living. I can't live without music. But at the same time, I was just throwing my creativity out there, and I didn't know how to make any monetary gains from it. And I've always had the passion of being an artist, but I felt like I needed more skills under my belt…After a failed marriage and a career in retail, you know, I just finally got to that point in my life where I was like, all right I'm going to do this, I don't want to regret saying that I didn't go in full-force with it."
Mike's turning point began when he moved in with a friend, who allowed him to turn the pool house into a studio, where he played and recorded. "I went straight towards the music," he says. "I had to. It was the only thing that kept me going, really…I got deep into the blues, which obviously I had a little depression from a fresh divorce and stuff like that, but like a lot of my guitar playing, riffs, just started encompassing blues type stuff…I would lock myself in my room for hours and build up sweats and just get the creativity out."
Still, he says, something was missing. "It was always just something about the quality of it. I didn't know what I was doing sound quality-wise."
Mike discovered the Recording Connection while trying to figure out his options for improving his skills—but he admits he was a bit skeptical at first. "There were so many options out there," he says, "and they all just seemed too unattainable, financially, until I saw you guys and I was like, 'Really? Is this real?'"
However, once he was connected with his mentor, Jim Fox of Low Tide Studio in Wilmington, NC, Mike says his skepticism faded. "We just gelled," says Mike. "We're about the same age, so we speak the same lingo, the same movie terms, and this and that. And so it surprised me, the first meeting I had with this guy, and I just kind of felt from that day on, I was like, 'Okay, this is definitely it.'"
It turned out Jim was indeed a fit for Mike's diverse musical sensibilities. "He had some hip hop flavor to him, but at the same time I was trying to expose my hip hop elements with the more organic, like with live instrumentation, which he was heavily into," says Mike. "I listened to everything and just have a mixture of musical influences. I even used to listen to a lot of spoken word stuff. I almost felt like I was going to go down that avenue rather than be a rapper at first. But I just love all of it…I mean, I'm liable to throw in some Tribe Called Quest and then turn around and blast some Metallica at the same time."
Learning in Jim's studio also helped Mike in ways he hadn't imagined. "I learned so much from Jim besides the music and how to record and this and that," he says, "as far as like the business aspect of talking with artists…just making them feel comfortable, and that you're there for them, because it is a service, pretty much. I was just there to do whatever he needed, whatever they needed to make them feel comfortable and to get that sound out…a lot of these songs were very personal, very close to their hearts, and I can totally understand that."
Since apprenticing with Jim, Mike has emerged with a new sense of confidence, both as a producer and an artist. He's currently working on developing his own clientele, but just as significantly, he's working on his own album in his home studio. "This project is the best thing I've ever worked on," he says. "I'm playing everything from guitars to bass guitars to drums on some of the tracks…It's just got this flow to it. Each song does. And yeah, it's got me singing, which nobody's really ever heard me sing."
So after a difficult moment and a turning point, Mike has taken the reins of his life and is now forging a new career. Even so, his musical foundation hasn't changed. "I'm not in it to make riches, just a living doing what I love," he says. "I'm doing music to live."
* * * * *