RC grad April Edwards works herself into a job as
Lead Engineer and Studio Manager!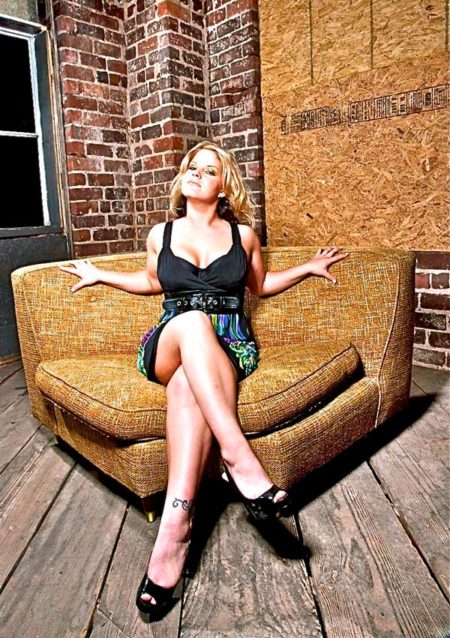 When you're in the right place at the right time with the right attitude, amazing things can happen. Take, for example, Recording Connection graduate April Edwards, who apprenticed at
Nitrosonic Music
in Lexington, Kentucky. When the studio found itself not generating enough revenue and in need of a manager, April rose to the challenge and made herself indispensable. As a result, she got hired at the studio even before she graduated, and now serves as Studio Manager and Lead Engineer of the studio where she once trained as an apprentice!
"They were losing money on it and management was a little shaky," she says. "While I was in community college, I took two business classes, business management classes…So I kind of saw it coming and I took the opportunity."
Coming from a musical family, April's early music industry experiences were as an artist. Starting as bedroom producer as a teenager, she moved to Nashville to record professionally. After her project "fizzled out due to some circumstances," April moved back home to Lexington to reevaluate.
"I got older, I had a child," she says, "and I was like, 'Well, what do I want to do for a career? What would really make me happy?'" I couldn't think of anything besides music. I couldn't see myself in any other industry. So that's when I was looking around for engineering schools, and I found the Recording Connection."
It was while she was apprenticing at Nitrosonic with mentor Brian Pulito that April saw the studio's need for management and made her offer. April says the studio owner gave her 30 days to see what she could do to turn things around.
"It was on my shoulders to get people in," she says. "I mean not just to record in the studio, but also bands rehearsing here in the back. They pay rent every month, which is easy money for us if we can keep bands in here. So that was kind of my first focus, getting the rent situation taken care of, because that wasn't being monitored at all. We were supposed to be breaking even on rent alone, and we weren't doing that because there was no system to it and money wasn't being tracked. So my first priority was to get the finances in order, to know what's going in and coming out, which is one of the basics of business, keeping track of your finances."
She also started looking for more ways to spread the word about the studio. "There are a couple of advertising opportunities I'm looking at right now," she says. "There's a theater, it's called the Lyric Theater in Lexington, and we're about to start working with them on an ad campaign to give their patrons 20% off of recording time, and musicians that come through there get 40% off of recording time. So WoodSongs "Old-Time Radio Hour" is held there, Lexington Music Awards is there. So that's a huge opportunity for us if we can get musicians and clients that come through the Lyric."
The gamble is paying off. Now full-time at the studio, not only is April acting as the manager, but thanks to the skills she learned from her mentor, she also serves as lead engineer at the studio, doing projects for acts like cowpunk band Hillbilly Alarm Clock and garage rockers Nine Pound Hammer, among other things. She says she's also taking the opportunity to revisit
her own music.
"Now that I've kind of taken over here and started getting back into it," she says, "my goal is to release three singles at the beginning of the year. So I'm in the process of cutting vocals for those, and I still need to get some instruments for a couple of them."
As to being a female engineer in a largely male-dominated industry, April takes it in stride. "There aren't many female engineers, as I have figured out," she says. "We're kind of a rare breed, which surprised me a little bit, and I think more females need to get their certification and get into the industry. But it's kind of a double-edged sword…people don't expect a female engineer to walk in, sit down, take control, and know what they're doing. So I like it more than anything. I like the reaction."
Right place, right time, right attitude—In a relatively short amount of time, April has gone from reevaluating her career to apprenticing, to taking the helm at the studio where she trained. Talking to her, you can tell she has jumped in with both feet when it comes to the success of the studio.
"I really try to go the extra mile," says April. "[Artists] can go anywhere to record, and they can probably record somewhere for a little bit cheaper, but I want to give them quality. I want to give them an experience that makes them want to keep coming back. I want this to be their studio."
* * * * *