A layer at a time: Recording Connection
grad Uriel Soto builds his career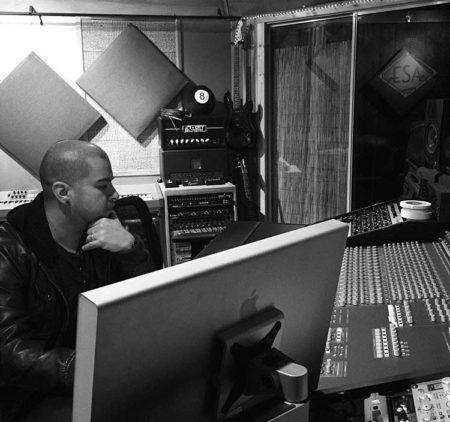 Recording Connection
graduate
Uriel Soto
—who now works as a staff engineer at his former mentor's studio—has an interesting analogy to describe the process of recording and producing music.
"Making music, especially recording, is kind of like when you build a cake,"
he says.
"When you make a cake, you mix the ingredients together, which is kind of like when you sit down and you pre-produce some music, or you pre-produce a song. And it just takes very different phases for you to actually record a song…and then you produce it. Many times you don't have the lyrics there, so you have to sit down and actually record the lyrics. After you've done recording, you go into editing. After you edit, you go into mixing. After mixing, you go to mastering, which is the final stage, or if you think of a cake, it would be the frosting on the cake. That's what you present to the people. That's what gets released….When you're in the studio, it's kind of thinking like that. There's many layers, many different things that you go through to actually make a song or a record."
Uriel should know; music has been part of his life for almost as long as he can remember. From growing up in a musical family to playing multiple instruments at church, then becoming a studio session player in his late teens, it seems natural that Uriel would seek out the Recording Connection to hone his baking…er, recording, skills.
"One of the things that I really loved about Recording Connection was that Recording Connection is…I guess probably the only [school] that I know of where my classroom was going to be the studio. The classroom wasn't going to be just out of a textbook, of a teacher just teaching me and telling me how to move faders, but I actually had to move a fader, move a knob, make mistakes. And that's the way I've always learned in life…I really wanted to get my hands dirty on the mixing console, cable wrappings, patch bays, and learning through hands-on experiences."
As soon as he met his mentor, Donny Baker at
ES Audio
in Los Angeles, Uriel says they hit it off immediately.
"We connected right from the get-go,"
he says.
"What I like about Donny is because he came from the live stage…his experiences in that field, and the fact that he had analog stuff, analog toys to play with, the analog board, the tape machine. If I had to learn from somebody, it had to be somebody like Donny because I wanted to learn the analog stuff… So when I went into the studio, I saw that Donny had all that, I was like, 'I'm there. I'm sold. I want to learn here with Donny.'"
Uriel dedicated himself to his studies with Donny, not only completing the basic program, but staying on for the advanced master's program, during which he brought his cousin's band into the studio to record.
"It was a great experience, because you're basically thrown into the mix,"
he says of the advanced audio program.
"You're basically thrown into, 'All right, now you've learned it. Now you have to do it.'"
Just as it was a natural progression for Uriel to pursue recording as a career—in the process of apprenticing with Donny, Uriel made himself such an asset that it was a natural progression for Donny to hire him.
"I had already been helping as much as I could as a student,"
he says,
"So when it was time for me to graduate, and when I was almost done, he came to me and he just basically told me, 'You know what? Why don't you just stay here?'…So I just said, 'Yes, let's do it. Let's keep on working.' It was that easy."
Uriel's been working at ES full-time as an audio engineer for a while now and couldn't be happier with his training, even with his prior studio experience.
"When I came into the program, I kind of already knew probably 50% of the stuff that I came to learn,"
he says.
"But what somebody told me at Recording Connection, and it made sense to me is, go into the Recording Connection program as if you don't know anything. And what you're doing is, you're opening the doors for your brain to…you're just going to absorb everything…you're really going to learn how people do it in the real world. Recording Connection is not just textbooks, it's actually real world people with their experiences telling you, mentoring you how they've gone through it.
"I have to be thankful to Recording Connection, to Donny, to ES Audio,"
Uriel continues.
"It's the best thing I ever did for myself. I'm enjoying life, I'm working with so many great talented people, doing what I love, and every day is just a new…every day is different. It's not the same nine to five job. It's not the same sitting in a cubicle. I get up and do what I love to do."
* * * * *