Recording Connection grad Kyle Piarrot:
The Power of a strong work ethic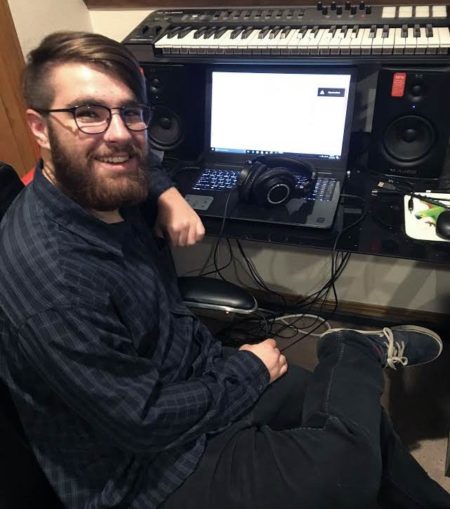 Talk about eager.
Kyle Piarrot
of Colorado Springs was so amped about the Recording Connection's in-studio training that he first applied to the program when he was 15—two years before he graduated high school!
"I got approved for the program,"
he says,
"and I was ready to go, but my parents convened and decided that…I needed to focus on high school and make sure high school was in check before I did anything else."
He couldn't wait for long, though. He came back during his senior year, and was placed as an apprentice with Jarrod Headley at
Clear Sound Studios
in Colorado Springs. Kyle says he formed a bond with his mentor right away.
"He was extremely friendly, extremely outgoing,"
says Kyle.
"He made me feel really comfortable right off the bat. He took me up to the studio, and, you know, sat me down, and was like, "Hey, man, you know, this program's really all about how much you put into it, and if you put a lot in, you're going to get a lot back."…I always felt like it was a learning environment. I didn't feel scared to go in there ever. I was ready to learn when I went in there."
Taking Jarrod's advice to heart, Kyle determined to put as much into it as he could, even while juggling school and a part-time job. It was a crash-course in work ethic.
"It was interesting,"
he says.
"I was going into my senior year of high school. I was working part-time, 25 to 30 hours a week at Jamba Juice, and then during the nights I would go in with Jarrod. Initially, it started out once a week, and then once I got more proficient in things, we bumped it up to how often I wanted to be in there, you know, and how often we had business to attend to. So, it was a little hectic, but I got through it, and I learned a lot."
Kyle pressed through the basic apprenticeship program, then stayed on with Jarrod to do the master's program. And after the program, when Kyle decided he wanted to attend community college, Jarrod's advice didn't end with the apprenticeship.
"Jarrod helped me decide what my major was going to be in college,"
says Kyle.
"We were talking one night, and he was talking about, you know, there's a real music side about the industry, and then the other side of the industry is really business. And if you're proficient in business, it'll make it a lot easier. So just as a way to help promote myself, promote any future brands I have or any future clients I have, I feel like a business degree is pretty applicable to anything."
These days, Kyle's work ethic continues to be a driving force for building his career. In between his business classes, not only does he continue to assist his mentor on projects in the studio, but he's begun working with several local EDM producers and rappers including Fortune Flow Music and Vibe Tribe, as well as his own music project called Brick Brack, a duo with his friend Mo Al-Mubarak. And as if that wasn't enough…
"I'm building my studio at the moment,"
he says.
"I'm going to get my interface here. Going to lease out an SM7B, just to have a really good vocal mic that I can have people come in and use. So, I really want to build my studio and then put my name out there as someone who can engineer and track for local artists….I'm really trying to reach out to the local artists and bring them in and really build something from the ground up."
Kyle gives his mentor much of the credit for his success so far.
"Jarrod definitely was a great mentor, and I think he's what made my master's program so successful,"
he says,
"because he cared about me, and he took his clients, his personal clients that were coming into the studio, and integrated my lessons with them, and that meant a lot. It helped me learn a lot."
Why does Kyle work so hard toward his goals?
"Understandably, it is a hard industry to break into,"
he says.
"But I think through hard work and dedication, really, as cheesy as that sounds, people break through."
Check out a track from Kyle's Brick Brack project, a collaboration with Mo Al-Mubarak, in our Students' Work section down below!
* * * * *