Film Connection student Ananth Agastya pursues
a childhood passion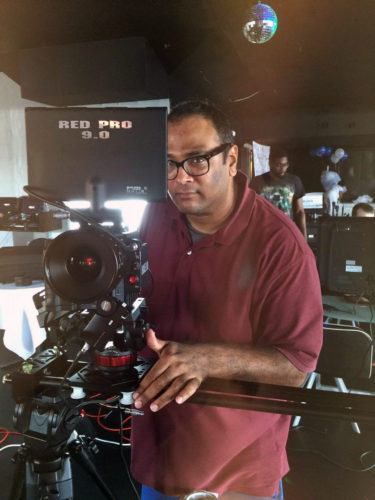 If you spend a few minutes talking with Film Connection student
Ananth Agastya
, you'll soon see that his love of film is cut from a deep, rich tapestry—partly because of his background, and partly because of how he noticed the effect film had on his culture growing up in Hyderabad, India.
"I grew up in India, and that gave me a lot of exposure to Indian films, from a lot of backgrounds," he says. "What I mean by that is we have so many languages in India, and I come from a cosmopolitan city called Hyderabad that shows North-Indian films, South-Indian films, which come in different languages, and obviously our Hollywood flicks, the blockbusters…I would see the cultural differences in all of these movies, and it fascinated me that the same medium could portray so much with a two-hour dedicated time…A lot of my friends—we would have these discussions about what the movie brought to the table, in terms of culture and the social dialogue, how they would talk about topics that we are not supposed to talk about, sexuality, for example, or religious subjects that are very difficult to talk about, even at home, in some circles. Films did not shy away from that. That was the first time I said, 'This is interesting, that films could do this.'"
Besides Hollywood and Bollywood, Ananth says Hyderabad is a hub for another branch of filmmaking:
Tollywood
. What's the difference? Ananth says it comes down to language: Bollywood films are in Hindi, India's primary language (especially in the northern states), while Tollywood films are in Telugu, the main language of Hyderabad and points south.
"[Tollywood] makes many movies," he says. "So many movies. It's really funny because Tollywood people get a kick out of North-Indian movies and also Hollywood and European movies. They sometimes remake them – with a regional twist –  like, six months after the original comes out, because they've got so much money to produce these films and because the audience has a huge appetite for a variety of stories."
Emigrating to the United States after high school, Ananth says he took a film studies class in college, but got sidetracked for a while over his need to get a job and "put food on the table." But his passion for film never left him and after marrying and having a child, Ananth says he came to a personal crossroads. "I told my wife, 'I've had this at the back of my head for a long, long time, and I just want to go to film school. I want to explore. I want us to at least have a dialogue about how much it's going to cost, you know, what kind of experience I can get.'"
Ananth's research eventually landed him at the Film Connection, which he says he chose primarily for the hands-on experience. Film Connection mentor Deen Olatunji of
Rehoboth Pictures
in Dallas, TX, was willing to accommodate Ananth around his work schedule at a global technology firm. Soon after enrolling,
experience
became the operative word for Ananth, as he found himself immersed in the filmmaking process.
"The sense of trust [Deen] places in you—the way he lets you traverse through all the hurdles, hands-on, that kind of experience is immeasurable," says Ananth. "He's had me involved in all stages of production. In this one project that we just got done shooting, I did the script breakdown. I did location reports, gave him the schedule of everything that needs to be shot on a particular day, gave him the shot list, anything and everything that an AD needs to be doing. I did all of that, and he reviewed everything. I absorbed all of it…it was a great experience. I'm still learning something new every day."
Ananth says he's also formed a great rapport with his screenwriting mentor, the Oscar-winning producer/director
Jana Sue Memel
, whose credits include
So I Married an Axe Murder
and Disney Channel's
Going to the Mat
. "She is amazing," he says. "She must have been my mother in a previous life or something, because the second I started BS-ing her, she would say, 'Stop. You don't know what you're talking about because you haven't done the research on it. You can't just pull that on me.'… She knows how to make a story click, and she asked me so many good questions about why I'm trying to do this. When I'm trying to write my screenplay, she asked me, 'Why is this guy acting this way? Why is she acting this way? How did your character grow up? Be truthful to your characters.'"
Speaking of screenplays…it seems even here in America, the culture plays a role in Ananth's approach to film, especially concerning social issues. "I finished a draft [of a script] before the election, 2016, and it had to do with an immigrant single father," he says. "After the election, that took a whole new meaning…Now it's an immigrant single father who is about to lose his immigration status…I don't think it's possible for any of this to exist in a vacuum. They always have a social significance."
A dependable member of Deen's team, Ananth even joins Deen on meetings, with potential clients and other producers: "I'm actually going out with Deen…to meet with a potential financer for the feature-length film," says Ananth. "He's got some ideas, and he wants to be able to fund us." (The project has just been funded!)
Ananth is keeping it in perspective, seeing everything as a learning experience with the strong potential of becoming more in the months to come.
"What I want out of this is a chance to get my film financed and produced by someone who recognizes the value in my screenplay," he says, "somebody who shares some of this experience and maybe develop a relationship with that person and work on a project."
* * * * *