New coast, new path: Film Connection student
Brooke Tadesse forges a new career!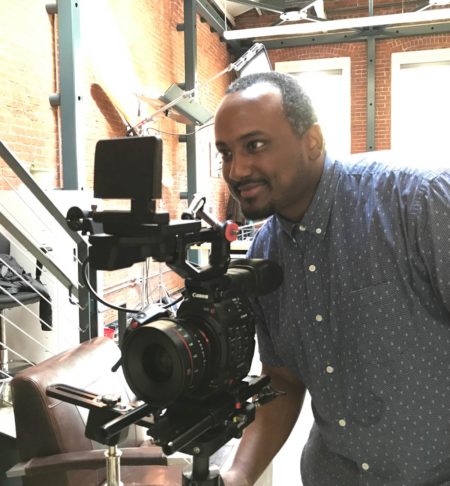 Sometimes, you find your chosen path by walking the wrong one for a while. For Film Connection student
Brooke Tadesse
, he tried to honor his parent's wishes by going into business.
"I graduated from school with a business degree," he explains. "That was the path that I went down initially. My parents didn't really want me to go into the arts."
Brooke says after working five years as a programmer for a banking software company in Philadelphia, he came to a personal crossroads. "I turned 30 and I was like, 'Yeah, I don't know if I want to do this anymore,'" he says. "Going to work every day, you know, like dragging my feet, like, 'Man, I'm not getting any excitement from this.'…It was stable, had that sense of security. We were living our lives. We were about to buy a house, we were getting ready to have children, and that's just that life plan, you know? I just was like, 'Before we do all that, I just want to make sure that I've explored all my paths.'"
Brooke began to ask himself what he was truly passionate about. "I always loved film," he says. "I've always been passionate about it, and at that point in my life I started researching not just movies, but the behind-the-scenes part of it, like production and directing and things like that, doing my own research."
Brooke says his wife not only was incredibly supportive, but she was the one who discovered the Film Connection. "She was like, 'Yeah, you should really look into this,'" says Brooke. "It's an apprenticeship program, you get a mentor, they put you on set, and they really immerse you in it. So I looked into it some more and I was like, 'Oh wow, that's awesome.'"
Deciding to make a complete life change of it, Brooke and his wife decided to make a leap and move to Portland, Oregon, where he had some extended family. The Film Connection arranged for him to interview there with producer/director Erin Galey of
In the Flicker.
Brooke says his interview happened only a few days after they landed in Portland.
"We didn't even have our furniture in our apartment yet," he says. "We met and it was really great…We definitely connected in that interview. I felt as though she has a lot of experience…she's been to a lot of places, and she has a good grasp on a lot of the industry and how to get your foot in and really go for the longevity, how to stay in here. I could see that, and I really felt as though we could definitely move forward together. Even just in that initial interview, I really got a great vibe from her."
Brooke had researched several schools before making the move, but almost immediately, he felt he'd made the right choice with the Film Connection. "What you learn on set in a day is maybe three or four days of course work or class work, if not more," he says. "Erin tries to tell me that all the time, too, because she did the traditional film school, and she says, 'I didn't learn that in class, but I'm telling you now, you're going to need this in the real world.' Like even our own budgeting for our finances, because she has her own production company and does her own accounting for her business and budgeting, she's like, 'I didn't learn this in school, so I'm trying to teach you, because you're going to need this in the real world if you start your own production company.'"
Just a few months into the program, Brooke is not only learning the ropes of working on the set, but he's also learning the power of connections, as a conversation with a cinematographer led to his first paid gig! "I just talked to him and I told him I was trying to get more on-set experience," says Brooke. "He took that and saw this as a good opportunity for me to learn more, and he passed the information along."
Now following a new path, Brooke says he sees himself eventually in the role of producer. He's grateful to his mentor for everything he's already learned so far. "She's a wealth of information," he says. "It's like any question you have, she goes into full detail and she's able to answer it…It's a new language. There's so much information to try to wrap my head around. So because she's very experienced, she is able to break it down and kind of water down a lot of the technical things for me. She definitely makes it easier for me to understand things…I feel like it was the best possible choice. I don't think I could have had another mentor that would have been a better fit for me personally."
Making the leap out of a 9-5 job toward a filmmaking career was scary, but Brooke says it was definitely worth it for him. "I always look back at, like, how we moved over here and how things have fallen into place," he says, "and how much everything has worked out and how I feel like this is the path I should be on…I know that this is what I want to do, without a shadow of a doubt."
* * * * *