Radio Connection grad Ian Schebel gets his
own show weeks after graduation!
Let's start with the bad news. There is no established formula for success. Otherwise, most of us would be following it. The
good
news is that we always have the option to set ourselves up for success—to be passionate and present in the moment when opportunity comes along.
There's no better way to explain the doors that have recently opened for
Radio Connection
grad
Ian Schebel
. By choosing to pursue his passion, in a matter of months he went from working a dissatisfying job, creatively, to landing an integral role working for one of Las Vegas' top alt-rock radio stations, not only screening calls and helping produce for the most popular morning show in the city, but also running his own show on the weekends!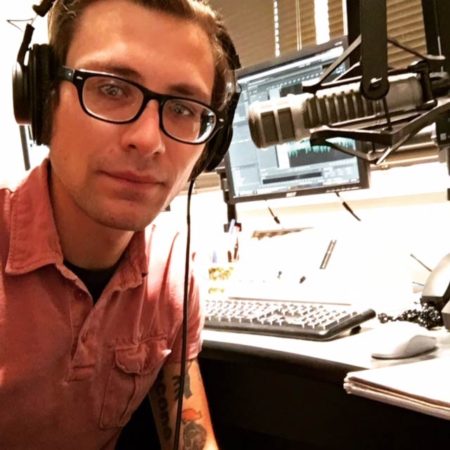 For Ian, the path began when he decided to make a change.
"I was in Chicago just working kind of just a dead end job," he explains. "And don't get me wrong, I was doing well at the job. It's just I wasn't very satisfied in terms of my creative output, or that urge to, you know, be funny or entertain. I've been a fan of radio my entire life….I grew up with certain DJs like Mancow from Chicago, Dick Biondi was another huge one. But of course, there's Howard Stern, Bubba the Love Sponge, you know. Even the old-timers, Wolfman Jack, all of that…And that got me kind of hooked on radio."
Ian decided to look into broadcasting schools but quickly got discouraged at the cost. "Then I came across the Radio Connection," he says. "I saw that instead of the more classroom kind of setting, it was a little bit more immersive. And I was extremely attracted to that idea…You get to go to an actual studio and meet actual people who work in the field, because those are the hands that you need to shake in really any career, the people who are doing it because they're the ones who are definitely going to help."
Jumping in with both feet, Ian decided to move to Las Vegas to pursue his new career in radio. He enrolled in the program and was placed as an extern with Radio Connection mentor Ransom Garcia at
X-107.5
, Vegas' CBS radio affiliate. On his first day at the station, Ian knew he was in the right place at the right time. "Ransom…has been a veteran of Las Vegas radio for over 10 years now," says Ian. "I immediately knew that I was meeting somebody I definitely should meet…Within the first five minutes of me talking to him, I could tell that we were on the same page."
Ian's timing was remarkable for another reason, as well: the station was saying goodbye to their morning team, David and Mahoney, the number-one morning show in Vegas for more than a decade. Ian got to watch this station adapt to a major change, and it led to opportunities for him to help out in the process, effectively giving him a crash course in radio.
"It was great to go in there and see a station try to keep the momentum going from that," he says. "I helped Ransom…he was the head producer on the morning show that replaced Dave and Mahoney. It was called Marco and Jeetz, and it was just a wonderful experience. I did everything from learning the production side of it to, you know, I was on air a couple times with the guys, which was great. I even was out on the streets with Jeetz, helping out with his 'Jeetz on the Streets' segment."
Ian made the most of the opportunity and quickly became part of the community. "I went in there and fully immersed myself into the culture of the station," he says, "and found that it fit like a glove, to be honest…For me to wind up not only with a fantastic mentor, but at a fantastic station also, I could not have asked for a better formula there."
That willingness to immerse himself couldn't have paid off in a better way. As Ian approached the end of his externship and started looking for work, the station's program director began helping him prepare. "He helped with my air checks," says Ian. "I would go every week in there. I would send him a couple air checks, and he and I would meet every week and discuss things I needed to work on. For him to make time like that for me was definitely a gift."
In the end, instead of sending him elsewhere, the program director hired him. Once again, timing played a role: David and Mahoney were returning to do their morning show at the station. These days, Ian not only screens calls and helps with production for David and Mahoney—he gets his own opportunity behind the mic, as well!
"I got that Monday through Friday, and then Saturday I get my own show," he says. "So I'm on Saturday nights 7:00 to midnight, as well. So I'm definitely fully immersed in that station…For me to get an on air shift, and then on top of that become a member of one of the best morning shows in Las Vegas, is great!"
Ian uses the term "serendipitous" a lot when he tells his story. He happened to land in the right town, working with the right mentor, at a station that just happened to need extra hands. But despite what we often say, timing
isn't
really everything. As Ian confirms, the key is to be present in the moment to take advantage of opportunities when they come.
"Unfortunately, we don't live in a world where things are just kind of handed out to you," he says. "You've got to work for it….I could've just went into that studio and just kind of poked around, you know, and not asked any questions or anything and I would've been right where I was before I moved. But fact is you have to go in there and you have to ask those questions. And you have to, ask those people's names, and you have to shake those hands, and you have to show them that you are worth something, and the knowledge that you're acquiring is going somewhere that's going to benefit you in the long run…You have to go in there every day and you have to make your presence known."
Ian didn't just find himself in the right place at the right time; he also had the right attitude. Today, he's reaping the rewards by working his dream job.
Right place, right time, right attitude.
If there really is a formula for success…that's as close as you can get to it.
* * * * *