Finding his niche: Recording Connection grad Chris Locke
opens his own hip-hop recording studio!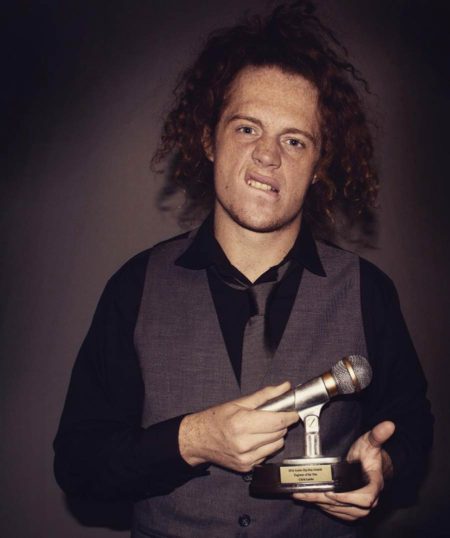 When we last talked with Recording Connection grad
Chris Locke,
he was working as an engineer at
5th Street Studios
in Austin, TX, the studio where he'd first done his apprenticeship with mentor Nick Joswick. Since then, he's taken another step in his career by opening his own niche hip-hop studio!
"I had a storage unit that my pops owned,"
Chris explains,
"and they always told me that my sister gets the house and I get the storage unit. And when I was 24, about 2 years ago, I told my pops, 'Hey, I really want to take the storage unit and turn it to a studio.' Like it's a big, big storage unit. It's the size of a house. So we completely dedicated the whole building to the studio. A third of it is to the music studio. I have another part of it dedicated to a lobby lounge area for my clients to relax at when they in with a group. And then the last third of it is my photography section that I'm actually finishing right now…I opened this two years ago, and I've been doing great."
Chris' success is a classic example of hustle-meets-opportunity. When he first enrolled in the Recording Connection in his late teens, he says he knew almost nothing—he just had a desire to learn.
"I actually started as a rapper,"
he says.
"I totally went in with the mindset that I was going to learn how to record myself, and just meet people in town. And I just wanted to get better at recording…I didn't even know that there was an engineer. I thought there was just like a producer and the artist. I was really like unaware of how music was done."
Despite his lack of knowledge and experience, Nick Joswick of 5th Street agreed to mentor him, and Chris jumped in with both feet.
"I took the book that Nick had given me for the class for him as my mentor, and I read the whole thing,"
he says.
"And the next time I saw Nick, I was like, 'Test me.' And he started asking me questions about microphones, and I knew what it was, and how this worked, and how this worked, and I knew like how some of it worked, you know?…He could see I was dedicated, so he started inviting me more and more and more."
Before long, the studio owner took note of Chris' dedication as well.
"I worked with [Nick] for a while,"
says Chris,
"and the owner starts noticing that like this dude is cleaning all the time….The owner of 5th Street had a week where he booked up the studio for him and his band, and I just happened to be the dude that was there taking care of everything because that's where I was all the time. And he saw that I was super dedicated…So at the end of that week, he came up to me and goes, 'Call your job at Pizza Hut and tell them that you got another job at the studio.'"
From that point, Chris just kept hustling.
"They gave me three clients and I had to go from there,"
he says.
"And at that point, I started going downtown to all the shows, and talking to everybody, and trying to get my name out there."
The rest, as they say, is history. Chris stayed with 5th Street Studios for four years, earning a reputation in town as a solid hip-hop engineer. However, since 5th Street wasn't really geared for hip-hop, he eventually began to see the need to branch out. The answer came while he was remodeling one of the rooms at 5th Street with another staff engineer.
"He gave me a few books about acoustics, and he and I remodeled the B room at 5th Street Studio,
he says.
"He was like, 'Man, just take what I've given you, and take that information, and build your own studio from it.' Six months later, I had my room working."
Today, Chris' studio continues to make waves, recently even winning recognition at the Austin Hip Hop Awards. He's particularly excited about two of his clients who show lots of promise: a Nigerian artist Morachi, and an up-and-coming rapper, Kenny Gee (not the sax player). Even so, Chris maintains a good working relationship with his former studio, especially when he sees a band that would be a good fit for them.
"I'm a niche engineer,"
he says,
"like I work really well with hip hop, rap music, R&B…I've done singer/songwriter stuff; it's just my ear is really niched towards hip-hop and rap…So I don't even advertise to bands. Like as soon as a band hits me up, I'll hit up my old friends at 5th Street Studios, and I'll ask them if they want the work because, you know, I keep a good relationship with my other friends that I made throughout the times."
As for his former mentor, Chris remains grateful that Nick gave him the opportunity despite his early lack of experience.
"Me and Nick are good friends,"
he says.
"We'll be friends for the rest of our lives."
* * * * *