Are you getting CONNECTED?
Hosted by multi-GRAMMY-winner IZ (Usher, Mary J. Blige, Chaka Khan)
our NEW Connected Hangout takes place every Monday!
Bringing you the best jobs in music, film, and broadcasting!
Don't miss out on opportunity.
Sign up for next week's Connected Hangout now!
'What is a Grind Opp?,' you ask? It is a job opportunity. A help wanted ad.
Recording Connection Bradley Bingham
Goes Full Throttle in L.A.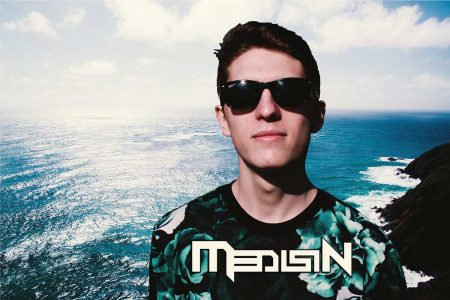 If there's one thing aspiring music artists could learn from Recording Connection grad
Bradley Bingham,
it's how to commit fully to the dream. When we caught up with him recently, Bradley was making final preparations for the release of his debut EP (under his stage name
MEDISIN
), working on projects with a team of other producers, shopping his music to labels and working every conceivable angle to get his music out to the right people.
"I'll have the EP out hopefully by middle of June,"
says Bradley.
"It's hybrid dubstep, or hybrid bass music would be a better clarification of that. It'd be more like world music infused with all the main bass expectations that people have of dubstep and the bass genres…I try to do a show at least once a month…I've been submitting my stuff to blogs. I had a couple blogs repost my stuff. I've been sending it to as many people as I can in the industry, sending it to talent agencies. I finally just got a new manager. She's been helping me focus on getting my EPK solidified and then sending that out to all of the connections that she has, focused on more of the EDM labels and stuff like that."
Bradley's interest in music production started at an early age.
"Ever since childhood, I was always a fan of music,
he says.
"I started out as a huge classic rock fan, 60s rock, so like the psychedelic music, and then even going into heavy metal and stuff like that. And from there, just as a child, I always had a passion for it. I always wanted to be in a band. I use to play bass and do drums as well. And then, later on…electronic music when I…started getting into house music, trance music, stuff like that around 2009. And ever since then, it slowly grew on me and then I knew I had to start producing my own music."
Of course, for the type of electronic music he wanted to make, Bradley knew an expensive classroom education wasn't necessarily the answer.
"I came across all of the stuff that you typically see, like Full Sail University, LA Recording, and all that,"
he says.
"I came across Recording Connection, actually, just from a random Google click…I started reading what it was about, and it really intrigued me how there was a mentorship program. It wasn't necessarily based in a school setting, or a classroom setting. I really enjoyed the fact that I would be one-on-one with real industry experts."
Bradley decided to enroll, and before long he found himself apprenticing at the world-renowned
Serenity West
in Hollywood, CA, which has hosted such clients as
Adele, Nicki Minaj, Justin Bieber, Sia
and many others.
"Steve was phenomenal,"
says Bradley.
"Steve gave me…a great understanding on how to record vocals and more fine-tuned understanding on the board, exactly what he would suggest to get a better recording overall and then, a better mix."
Now armed with the skills he needs to produce and record like a pro, Bradley is wasting no time in putting forth the effort to launch his career. He's moving forward full-throttle, with a long-term plan to grow from an artist into a mogul.
"Long-term-wise, I definitely want to set up my own record label,"
he says,
"have a lot of impact in the music scene in different areas. For the short-term, goals right now would be…solidifying the performing, touring artist gig, just getting more of my music signed to major labels…But long-term-wise, definitely setting up a record label."
Hear MEDISIN's music in Our Students Work section below!
* * * * *