'What is a Grind Opp?,' you ask? It is a job opportunity. A help wanted ad.
From Aristocrat of Bands to audio engineer:
Recording Connection student Desiree Holiday
builds her career as she goes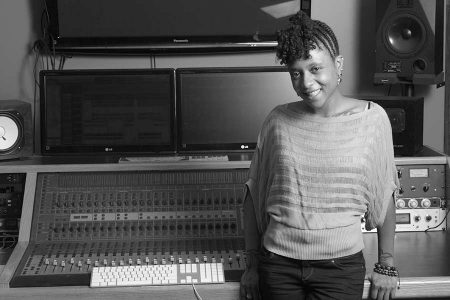 The great thing about learning on the job is that it presents you with opportunities to begin building your career while you're still a student. That's exactly what we found when we caught up with Recording Connection apprentice
Desiree Holiday
a few weeks ago. Even while finishing her basic course with producer/engineer Ric Web (Taylor Swift, Alan Jackson) at
South Street Studios
in Nashville, TN, she's already landed a paid gig recording an aspiring rapper, and she's even bringing him into her mentor's studio as part of her ongoing training!
Like most things, it began with a connection.
"It's actually a friend of a friend who is an aspiring rapper,"
she says.
"He basically came to my house one day and was like, 'I know you're doing recording. I would love to record this song with you and have you mix it.' And I said, 'Great.' And it was really that simple." It's funny because we live in the same apartment complex, so we already kind of knew each other from that and from us having marched in the same band at the same college."
Desiree's training kicked in right away, and she could hear what needed to change.
"We cut the vocals in my house with my modest setup,"
Desiree explains.
"I noticed some mistakes I made, some things that didn't come through quite clearly, and I just asked my mentor if we could redo them at his studio. And you know, I put it to my artist: 'It might cost a little more, but it's way worth it." And from there, it just sparked. He loved the sound we got. He loved how I worked with him. What felt good to me was the confidence that my mentor gave him right before he let us have the studio. Between then and now, we've been able to really embark on a bigger project. Now he wants to record almost seven tracks with me at my mentor's studio, and he is willing to pay the price."
Desiree's passion for music in general (and audio engineering in particular) was sparked in a rather unusual way—playing trumpet in a marching band.
"I started playing trumpet in the fifth grade and marched in the band in high school, [then] marched in the Aristocrat of Bands in college at Tennessee State University,"
she says.
"It wasn't until I actually got to college that I knew what I wanted to do is music. I knew music was there, I just never knew how it would be because I wasn't the best trumpet player per se, but loved music. I came across the engineering aspect and from there, I just knew that is what I wanted to do."
Because of her new interest in audio engineering, Desiree chose to major in mass communications in college because it was the "closest thing" to what she was looking for—but she knew when she graduated she'd need more intensive training if she was going to be serious about an audio career.
"I started doing some research just seeing where could I get my audio engineering skills beyond YouTube,"
she says.
"I did a search that said "top audio engineering schools," and Recording Connection was number one and two.
Desiree says she was drawn to the program because of the affordability and flexibility working around her job.
"I could tell already it would be hard to go to a traditional college for that and maintain a job,"
she says.
"I've seen my friends do that. I know it's possible, but I really just didn't want to go back to school like that. And…it's more of a mentoring thing. You just sit one on one, or maybe two people at one time, talking with your mentor. And I was like, 'That's perfect for me.' Especially since I'm the type of person I have really be involved with the teacher to really grasp it…I called that day when I researched it, and I really didn't have any second thoughts after that."
Mentor Ric Web has been a great fit for Desiree.
"He is just very open and willing to do whatever I feel like needs to be done. He says, 'Hey if you just need to come and mix, do that. If you want to bring an artist, do that.' You can't really do that in the classroom with a set curriculum, especially me…Whatever it takes for me to get it, he's going to make sure that I get it. And that means a lot."
As Desiree talks about her plans for the future, it's apparent her prior experience with one of the nation's top marching bands is still fueling her passions.
"I know a lot of artists having been in the band at Tennessee State University Aristocrat of Bands,"
she says.
"I know a lot of artists who are looking to be heard and get known…I definitely want to mainly engineer, track, own and operate my own recording studio. I want to be able to house a symphony and be able to record symphonies for film."
Speaking of film—Desiree also expresses an interest in getting into the field of film audio.
"I always put it to people like this,"
she says.
"You've seen a movie, and sometimes it is not always the best quality…You can stand a movie that doesn't really look the best, but if it sounds good, you can keep with it. But I can't, and nobody I've asked this question to can stand a movie that sounds bad. It's something about sound that really creates the reality of everything. It's just something that I feel that I can just really do good at. I love just enjoying sound, period, as creative and loosely as it can come."
Even with her current paid gig and her dreams for the future, Desiree wants to hone her skills even further, and plans to jump right into the Recording Connection master's program with her mentor Ric as soon as her basic program concludes.
"I figured, why stop just with the basics?"
she says.
"I'm just very intrigued to learn what I'm going to learn from here on out because I feel like I have everything. So if there's a master's program, I'm like, 'Oh, there's more? Okay, well, let's press on, please.'"
**Check out our video on How to Produce Great Vocals in Pro Tools, down below!
* * * * *