Recording Connection grad Fredrick Nsiah
makes his mark on the Afropop Scene!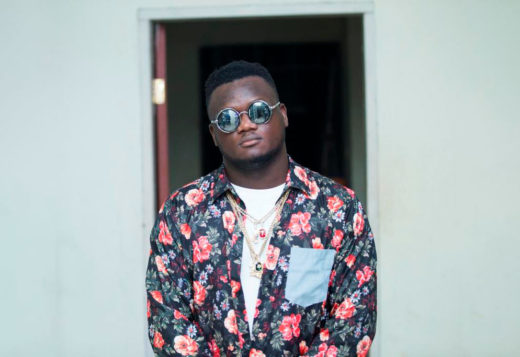 It hasn't taken
Fredrick Nsiah
long to start making the most of his training at the Recording Connection. Since enrolling in the program, he has taken his skills as an artist and producer up several notches. After releasing several tracks online, he is now making a name for himself in the Afropop scene under his stage moniker, Exgee, his music video
"Ebefawo"
having already generated more than 300,000 views!
A Ghanian-American, Fredrick explains the backstory behind the song and the title "Ebefawo," which translates "It will attract you" in his native language. "When you go back home in Africa and you dress up nice and everybody sees you—'Damn, you're dressing good,'" he says. "We were walking around on the street, and then there was a girl around the street. She was like, 'Damn, you guys, your dressing has attracted me,' in my language. 'Ebefawo afami.' That means it attracts me. So we all responded at the same time, 'Ebefawo'… 'It will attract you.'"
Like many modern-day producers and artists, Fredrick's musical journey figuratively began in his bedroom. "I was recording some stuff at home, doing my thing," he says, "but I wanted to take it to a professional level. So I was online looking for a place to do it, and then I saw Recording Connection."
It turned out that one of our most noted mentors lived only 15 minutes away from Fredrick's house—Don Zientara of
Inner Ear Studios,
widely regarded as a pioneer of the Washington, D.C. punk scene. Fredrick admits he was uncertain at first how someone so associated with punk and rock would be able to speak to his Afrobeat/rap sensibilities, but those concerns soon faded.
"Music is not about what you know or what [style] the person does. If you understand music, you can do anything," says Fredrick. "I fell in love as soon as I got there…Don is a very cool person, and a humble person, too…The way he treats you, you feel like it's a blessing to have him."
Don's stature as a music industry veteran was reinforced to Fredrick when the Foo Fighters came in to record a video for a song from their recent HBO documentary Sonic Highways. He was doing a song with them, I think 'The Feast and The Famine,'" says Fredrick. "They shot a video and everything right there. It was cool. These guys are like millionaires and I met them, like, 'Wow.' They're all humble, man."
Since working with Don, Fredrick is putting his newfound skills to good use in writing and producing his tracks, even creating his own samples from scratch. Currently releasing a song at a time, he's working on creating a mixtape. With Afropop currently gaining steam in Europe (even artists like Drake and Ed Sheeran are releasing tracks in that style across the pond), Fredrick hopes to be a part of making Afropop big in America, as well. Meanwhile, he stays in touch with his mentor, Don, who is always willing to advise him.
"Don is very cool," he says. "Any time I need help and I call him, he just says, 'Come in, man, Come in.' Any time I call him. Apart from music, he's a very nice person to talk to."
Of course, it's not just his producing and mixing skills that are contributing to Fredrick's current success as an artist. In his own words, "to make it in this business, you have to bring something more to the table."
"It's all about commitment," he says simply. "If you want to do it, you got to commit to it."
Check out a recent release from Fredrick Nsiah aka Exgee in the Apprentice Media section below!
* * * * *