Recording Connection student Zachary McCaw finds
indie-rock success, and fresh confidence!
Recording Connection graduate Zachary McCaw recalls the first time he walked into
Crystal Clear Studio
in Philadelphia to meet his mentor, Joey Heier: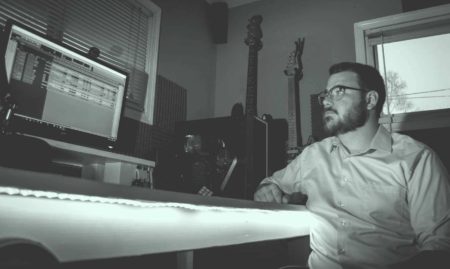 "I walk in,"
he says,
"and the first thing Joey said is like, 'Call me Uncle Joey.' And I'm like, 'Oh my God, this guy is so cool already.' When I was in high school, I played a lot of jazz music in the jazz orchestra and band…And he's a horn player, he plays trumpet. And we're both talking about playing jazz music and playing just horn instruments. So we're talking about that. We're talking about kind of what inspires us and why we want to do audio and things like that…So I knew right off the bat he was going to be a great inspiration. But the other thing was him showing me around the studio, and my jaw was on the floor with the equipment that he had…It was like love at first sight…I was just totally nerding out."
Zachary's love for audio and music was sparked in his teenage years, growing up in Ohio, helping out in the audio department at his church.
"I was doing audio with them on pretty big setups out there till last year,"
he says.
"When I started with them, I realized how much I loved it, and they were gracious enough to give me actual hands-on live experience…That was a really great opportunity. I realized how much I enjoyed it and how much it brought me closer to music."
Even so, Zachary says he was hesitant to pursue audio engineering as a career, in part because he wanted to be the best at what he did and was insecure about whether he could be "good enough." But shortly after a move to Philadelphia with his wife, he was encouraged to try. That's when he found the Recording Connection online.
"I'd been looking at schools for a while and I didn't see one that I really liked,"
he says.
"I worked with other audio engineers before, but I hadn't had any formal schooling and stuff. So when I saw that the way you guys set it up with Recording Connection was that you mentor with somebody who's already in the industry…that's when I signed up."
The on-the-job training proved to be everything Zachary hoped it would be, and more.
"When I first got there, I had my first question,"
he recalls.
"[Joey] was like, All right, here is how this is going to go; I'm going to give you the technical answer and then I'm going to give you the Uncle Joey answer.' He gave me the technical answer and I'm like, 'Oh, that's fascinating.' And then he gave me the Uncle Joey explanation, and I will remember it forever. It just made perfect sense."
It didn't take long for Zachary's training to start paying off. Not long after his move to Philly, he started playing bass in an up-and-coming indie rock band called The Lunar Year, fronted by songwriter/vocalist Katie Burke. Within two weeks of starting his apprenticeship with Joey, he brought the band in to the studio and started recording them.
"I actually did the sound pretty bad because it was, I think it was the second week of school, and I didn't really know what I was doing,"
he says.
"We released an EP about five or six months ago, maybe like four months ago. So that was…I think it was six songs or seven. And since then, Katie and I have recorded probably about 10 or 11 songs after that. So we recorded a ton. And to hear it, like some of the stuff I recorded and mixed earlier, and see where it's at now, it's pretty fulfilling to be able to hear the quality I'm able to do now as opposed to with that first song."
Regardless of Zachary's self-critiques, The Lunar Year's music is finding a following, in part, because of his work on the recordings. The band recently completed a mini-tour in Ohio, and they got word that one of their tunes even got airplay in France. Zachary says one of their recent songs, "Porcelain," got over 2600 SoundCloud hits in its first day. And interestingly, one of their first songs—which Zachary says was one of the tunes he recorded poorly during week 2 of his training—now has over
10,000 listens on SoundCloud!
He says that reality is teaching him that capturing the essence of the artist in a recording can be even more important than getting everything technically right.
"It's pretty crazy to see a song that I recorded get all those people from all over the world listen to it and they really like it,"
he says.
Now as part of an up-and-coming indie band, and with his audio skills refined, Zachary is poised to go nowhere but up. He even recently set up his own studio space.
"I'm really happy. I never thought I'd be able to have a space like this,"
he says.
"I don't think I would have the space or have the confidence to set something like this up if I didn't go to school."
Speaking of confidence, Zachary also says learning from Joey has given him a fresh perspective and helped him relax a bit about his own abilities. No longer pressured to be "the best," he finds himself inspired to do the best he can with what's in front of him.
"When I went into it, I was like, 'I'm going to be the best audio engineer in the world,'
he says.
"And I'm talking to Joey and I see his capability and his gear and all the stuff, and he was like. 'Every single time I record, I learn something new.' When he told me that I realized, it doesn't matter if you're the best audio engineer. It doesn't matter to have the best equipment…If Joey's not even going to say he's the best audio engineer in the world—which he is, in my opinion, one of the best…None of that stuff matters. It's all subjective. It's what you can do with what you have."
* * * * *