How to Get Hired in Audio:
One Recording Connection grad On What He Did Right
We're big believers in doing things the right way and by that we mean the smart, effective way. So when a student gets hired prior to graduation we want to know what they did right. Diego Ayala is one such student. Read on to see how he landed a job at The Press Recording Studio (Stockton, CA), where he externed/apprenticed under studio owner Matt Young (Killswitch Engage, Paramore, Katy Perry).
* * * * *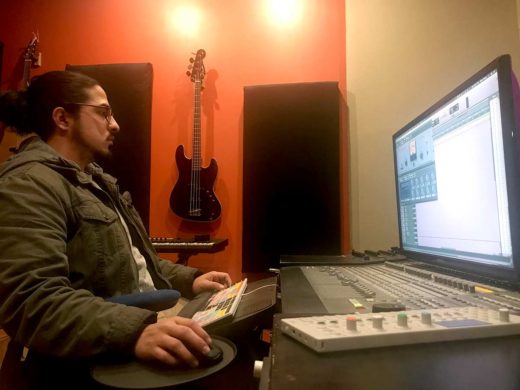 RRFC: So what led you to Recording Connection in the first place?
Diego: I wanted to be happy with what I was going to be doing for the rest of my life. So, started looking into things and Recording Connection just seemed like a really attractive opportunity to me, the way they put you right there in the thick of it, really hands-on, which is how I like to learn. Yeah, and shortly after that, I enrolled, and ended up finding a great studio in my hometown to be an apprentice at.
RRFC: How did it go the first time you met Matt and interviewed at the studio?
Diego: I walked in and he was super chill. We talked about our taste in music, what we liked… I told him I wanted to end up doing what he does, be an audio engineer, a kind of a jack-of-all-trades, [who can do] any genre, any task that somebody needs done in the audio world.
RRFC: During your externship would you say you were proactive?  Did you come in more than the minimum amount of days?
Diego: I was there pretty much seven days a week…I would show up and just do anything I could do, whether it was wrapping up cables or putting away mic stands or setting-up mics, and even cleaning bathrooms. Just whatever needed to be done and just have him not ask me to do it, just take the initiative and go ahead and do it.
RRFC:  What is it about working in music that appeals to you?
Diego: Ultimately, just the emotion that it evokes, you know? That's ultimately what we're trying to do at the end of the day is trying to get someone to relate to what's being said or what's being played on an instrument…relate to it, or find some sort of solace in it. That's ultimately what attracted me to a career in music.
RRFC:  Have any recent recording sessions to tell us about?
Diego: As far as projects I'm working on right now, there's a guy by the name of Jay Anonymous. We just recorded and mixed his stuff. DZ Fresh, he's got a mix tape coming out called "Fresca Bar Season." Rico Freeman, we're doing tracking for him… and I did some vocal tracking for a band called Operocia. They've got a project coming out that I'm really excited and happy to be a part of.
RRFC: We know Matt's a big believer in trial by fire. Tell us about it.
Diego: Oh yeah. He definitely gives you the opportunity and he doesn't baby you along the way. He lets you make your mistakes, because that's the only way you're going to learn. If you have someone there always correcting you, then you're going to need them always there to correct you, but he kind of lets you, you know, make a mistake and figure it out from there, and realize what to correct from then on.
RRFC: Getting hired by Matt, how did it come about?
A vacancy opened up and Matt goes home at 5:00 to his family. So, there was a huge opportunity to capitalize on all the people that want to come in after 5:00…It's cliché to say overnight, but it really was like, 'Oh, I'm an engineer now!' because one day, I just started doing sessions, like, scheduled a session by myself, and that's how things kind of just went from then on out.
RRFC: When you were in the program, if you had questions, was Matt helpful in explaining things along the way?
Diego: Oh, yeah, absolutely. I would let him know on a weekly basis what I felt I needed to brush up on, and he was more than happy to take an hour out of his day and just, let me know, 'Okay, this is how the signal flow works, this is how you hook up the patch bay, this is what the mic is connected to, this is…So, yeah, he was more than helpful in that aspect.
RRFC: Do you have any advice for Recording Connection students on how they can maximize opportunity while they train inside a professional recording studio?
Diego: Just do as much as possible, take the initiative. Basically show up until, you know, they tell you that you can't show up, because that's what I did and Matt never had a problem with it. …Yeah, and work on it as much at the house as at the studio. Like, it's 24/7 kind of thing. When you got an end-goal like that in mind that's all you have to be focused on. You know, you might be a boring person for a year or two, but it definitely does pay off.
RRFC: So, going back your first sessions flying solo at The Press, were you ever nervous?
Diego: Oh yeah, absolutely…My first session by myself, yeah, I was definitely very nervous, you know, sweaty palms and all that stuff.
RRFC: And how did the session turn out?
Diego: Turned out great. Client was happy with what we had done and I realized I was nervous for no reason. I was more than prepared for doing that session.
* * * * *