More than he bargained for: Recording Connection grad
Ryan Abbot becomes chief engineer at his mentor's studio!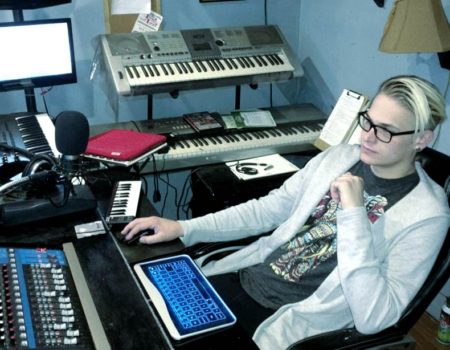 Ever notice how when you start moving in one direction, it often ends up being something much different, or more than you imagined? When musician and songwriter
Ryan Abbot
of Sayre, PA first enrolled in the Recording Connection, he thought he was simply trying to improve the sound of his own music; before he knew it, he wound up hired as the chief engineer for his mentor's production company!
"I have some songs and stuff that I had written myself that I wanted to record, but understand how to record well,"
he explains.
"And then I started getting in contact with my mentor, and he really showed me the behind the scenes of what's going on there. So I ended up really excelling at the actual engineering side…Once I started really getting into the engineering side of it, that's what really took over, because I really do enjoy learning about what makes sounds work."
Ryan says he came to the Recording Connection at his father's recommendation after a brief stint at college left him unsatisfied. After enrolling, he was placed as an apprentice with mentor Will Greene at his studio, Platinum Shop Productions in nearby Elmira, NY. From his first meeting with his mentor, Ryan says they hit it off.
"There really wasn't any sort of formality,"
he says.
"We just started listening to music and jamming and it just clicked, it worked."
It also didn't take long for Ryan to discover this training program was going to be anything but typical.
"It was interesting because he had told me from the beginning that he wasn't going to be very conventional with the way that he did it,"
says Ryan.
"That turned out to be true. It was pretty much just, I got my lessons done, I brought them in, he made sure that we went over them. And after, that it was just working on the projects, working on things that needed to get done."
Ryan took to engineering like a fish to water. A watershed moment occurred just a few weeks into Ryan's training, when his mentor handed off something he'd recently recorded.
"We had met maybe two, three times before,"
says Ryan.
"So Will turns to me and he goes, 'All right, so how about you mix this song down and we'll leave you alone and then we'll come back and see what happens.'"
As it happens, the song was for an upcoming album by R&B artist Lottie. An hour and a half later, he was finished.
"It just clicked so well and was exactly what she was looking for,"
he says.
To watch people light up like that is so much fun."
Not only did Ryan continue engineering and mixing several more songs on the album, but his mentor ended up hiring him on as chief audio engineer for Platinum Shop!
"He picked up on the fact that I have an ear for this, and that I was very serious about it,"
says Ryan.
"When you've had someone that's been in the business that long, it's really nice to hear…'Okay, so this is going well. You have a good ear for this. You know, you could be really successful.'… We're working on another two albums that'll be coming out probably next February."
So what started out for Ryan as an opportunity to fine-tune his own music turned into an actual job in a recording studio. But what seems like a change of direction has ended up being the beginning of a great career. He says it's hard work, but he thrives on the challenge.
"The one thing that I've noticed doing this and working on an album is that the amount of man hours that goes into that production,"
he says,
"and taking that production to the next step and then the next step is just…it's grueling. And there's a bunch of man-hours, but man, it's so fun. You know, with all the sleepless nights and hours in the studio and rerecording and redoing and waiting anxiously for the album to come out…I wouldn't trade any of that time for anything."
* * * * *