Audio-Technica, Recording Connection & Clyne Media Hosted 3rd Annual Csaba Petocz Master Class Workshop with four-time GRAMMY® Award Winner Chuck Ainlay.
Since 2017, in partnership with Audio-Technica and Clyne Media, Recording Connection has presented the Csaba Master Class Audio Workshop to audio up-and-comers. Taught by audio greats who need no introduction, these intimate workshops enable attendees to interact with some of the best audio professionals in the industry and learn how they approach tracking, mixing, production, client interaction and other key aspects of the craft.
About the Csaba Petocz Master Class Workshop:
Csaba was one of the greats. The three-time GRAMMY nominee with 37 number-one record credits and 32 platinum or multi-platinum albums, he split his time living and recording in Los Angeles and Nashville, working with bands and artists across the musical spectrum: Metallica to Larry Carlton, John Michael Montgomery to Alanis Morissette, Aretha Franklin to Elvis Costello and more.
Held on November 2, 2019, this year's Third Annual Csaba Petocz Master Class Workshop was taught by Csaba's friend, Chuck Ainlay, a four-time GRAMMY® Award-winning mix engineer. Held at Peter Frampton's Phenix Studios in Nashville, Tennessee, Ainlay focused on numerous aspects of being an engineer/producer in today's industry. Topics he delved into include mixing, production, gear, the relationship between the artist and engineer, and how to get the best performance out of an artists and players. Attendees also got to dissect The Peter Frampton Band's recent release of the Willie Dixon classic "I Just Wanna Make Love to You," mixed and co-produced by Ainlay himself, who was glad to be able to pass on the knowledge to some of tomorrow's pros in honor of his late friend and colleague:
"Csaba was a dear friend of mine, and I feel honored to have been chosen to teach this master class and help keep his legacy alive. I spent a good deal of time talking to the students and trying to emphasize the importance of interaction with the artist – a quality that Csaba always brought to his projects. I also want to thank Peter [Frampton] for donating the use of his studio for this worthwhile event and thank Audio-Technica and Recording Connection for putting this together."
Pictured L-R, back row: Recording Connection mentor Sean Giovanni (The Record Shop), Roxanne Ricks (Audio-Technica Artist Relations Manager), Frank Wells (keynote speaker), Anthony Vaticalos (student), Alec Wingfield (student), Lisa Roy (Csaba's wife), Jones Nelson (graduate), and Robert Clyne (Clyne Media). Front row: Chuck Ainlay and assistant engineer Todd Tidwell. [Photo credit: Corey Walthall, Clyne Media. © 2019.]: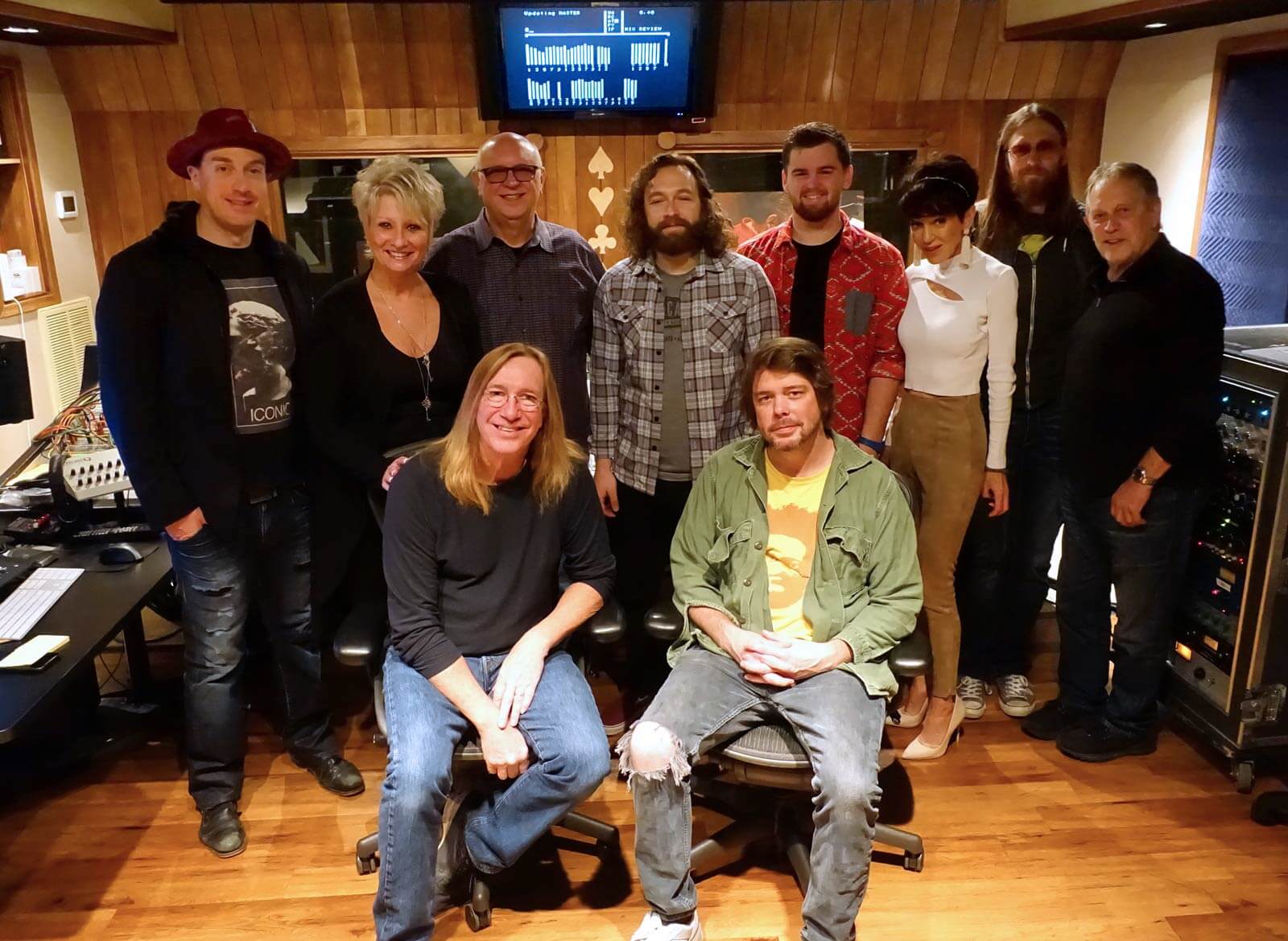 The workshop was attended by Recording Connection for Audio & Music Production graduate
Jones Nelson
who found it enriching to his production practices.
"It's an incredible experience to come here and get to see how Chuck does things behind the scenes. It was great to see how he's able to go through and fatten-up vocals and piano and guitar tracks. He gave me a lot to think about, and I'll be deconstructing a lot of the work I've done up to this point and re-thinking some of my habits."
Recording Connection for Audio Engineering & Music Production student
Alec Wingfield
remarked,
"Getting to spend time with an engineer of such high reputation as Chuck Ainlay was a once-in-a-lifetime experience. It's something I've always dreamed of: getting to pick his brain and understand how he uses his gear and the musical touch he adds to the projects. I think it will help me forge my own identity and vision as an engineer moving forward."
Recording Connection for Audio Engineering & Music Production student
Anthony Vaticalos
also took a lot away from the workshop.
"I learned a lot about how to interact with the musical elements in the engineering process….Chuck gave us a lot to consider in what to expect in certain scenarios, different techniques to employ, and how to be a great engineer overall. I especially enjoyed getting some hands-on time on the SSL board."
We send our deep appreciation to all of the professionals who attended and shared their knowledge and memories of Csaba, including Lisa Roy, Csaba's wife; Roxanne Ricks, Audio-Technica Artist Relations Manager, Chuck Ainlay; Frank Wells; and Todd Tidwell.
* * * * *