A Day in the Life of Our Students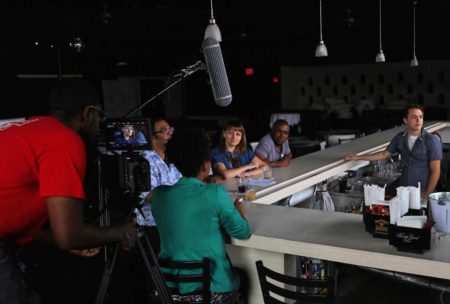 As a side project, several Film Connection students, advised and assisted by their mentor Deen Olantunji (Dallas, TX), decided to write, star, direct and produce their own student project, named "The Alarm Clock." One of the team members, apprentice
Ramiro Moya Hernandez,
recently shared a few words about this student-led project:
"We've spent many hours each weekend creating this short film. We are very passionate about it and we believe that our time with Deen Olantuji has helped us grow… I have always dreamed of becoming a film director, but for most people, this is only a dream. I have been with the Film Connection for almost 6 months, it has been a wonderful experience. I believe that anyone can be good at something, all it takes is hard work, dedication focus, discipline, and practice to master your techniques."
Recording Connection student
William Wright
(Omaha, NE) shared a few words about a recent lesson.
"Well this week is going great. I met some awesome people last week as well, but today we kind of went through the lessons differently. We talked about ADC and DAC, then we talked about connectors, wires, and transfer speed…and the way we use the microphones in the studios…This is where things took a turn. Rick [Carson] told [me] that he can't teach mic placement. I stopped and thought to myself, "Then what is the point?" He then went on to say he can show me how to place a mic, [but] it's all preference…it's all up to me. It's my preference."
* * * * *