How One Film Connection Student Landed a Job
at Local News Station!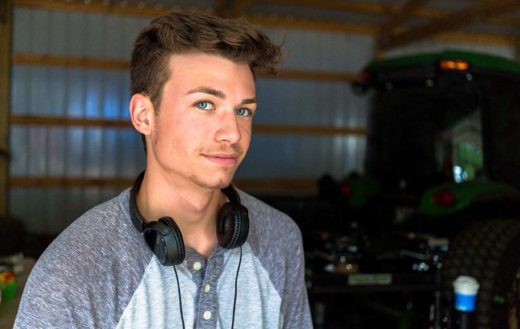 Like many of our emerging filmmakers,
Dakota Martin
 found the Film Connection when faced with the choice of pursuing a career in a particular field.
"I was just about to graduate high school, and I didn't know whether a university or a trade school was more the right choice for me. My stepmom and I started looking around, and she actually found the school and showed me about it. I kind of just instantly knew, 'Oh yeah, this seems like more of a fit for me than a film program at a university, just because this is more hands-on with everything and you're actually out there.'"
Having taken a number of Video Production courses in high school, Dakota knew more than other apprentices who enter the program completely green. Nevertheless, his education was by no means complete. His mentor, cinematographer, editor, producer Darko Nikolich was able to assess where Dakota was at and to customize the curriculum to meet him at his level.
"We basically picked up right from what I didn't know and then went on from there. He was super good at assessing what I knew and what I didn't know… He's been showing me cinematography and editing and just everything that he can imagine… Being able to ask any question that comes to mind is such a big help. I'm a super big fan of questions, too. So I'm always asking him stuff, just anything that comes to mind. He's super cool about answering. There are no stupid questions to him."
And Dakota's externship even resulted in getting hired at KTNV, Channel 13 Action News in Las Vegas! It all started with a casual conversation between Dakota and his mentor Darko.
"I was talking to [Darko] and I mentioned how, at the time, I was working construction for my dad. So 40 hours a week of hard manual labor, and I was just like, 'Yeah, man, I'm looking for something new. I don't know how much longer I can do this.' And then he kind of disappeared for five minutes while the news was going on, and then we walked outside, and I was about to get in my car to go home, and he said, 'Look, there might be an opening here.'… And I was just so happy. It was incredible. I started smiling crazy hard. I thought that would be great."
Since landing the job as a studio tech at Action News, Dakota has remained committed to doing a great job each and every day.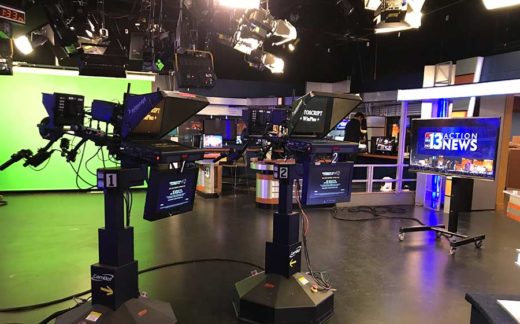 "It's going great. I don't mean to toot my own horn or anything, but I've actually received a lot of compliments for being on-point. I floor direct and I operate the teleprompter for the live news, the 3:00, the 5:00, 6:00, and then the 11:00 [shows]…There have been a couple of times where the anchors are like, 'You're doing a great job. You're so into it and ahead of the game.' So it's really cool, for sure. It feels great. It feels like I'm doing something right."
While Dakota is grateful to be getting paid while building hands-on industry experience, he isn't forgetting about his long term goal of being a film director. And, he's been surprised to unearth a new love—screenwriting.
"The main goal is to direct movies. And what I want to do is go out to California and get hired by a production company and start doing their projects and work for them, and I also want to keep writing in the meantime, because I was never a big writer, but once I started Film Connection and they had me do the scriptwriting, I kind of fell in love with it. It's actually really awesome to me. So yeah, I want to stick with that, too."
Dakota credits his screenwriting mentor Eric Abrams (
Married with Children
,
Liv and Maddie
) for demystifying the process of writing a screenplay.
"I dreaded writing before this school. I just didn't know how to articulate the thoughts and the events in an organized way. So it would always get off-track. Then I started the scriptwriting process with Film Connection, and we basically went through a whole outline for three weeks. I spent a week writing out each act and the action that took place in the acts, and then from there we went over it and made sure it was all good, and it was basically my outline for the entire script. And then from there I wrote the script with the actual dialogue and the movements. It was just so much more organized and so much easier to do, and it all played out so much better. So I just kind of love it now. It's like my child, my script…"
Dakota knows how fortunate he is to have a strong support system behind him, helping him on his way.
"My dad, he's the one that gave me the idea in the first place, and then my stepmom found the school. And my mom, she's still been there every step of the way, trying to help me out and supporting me…
They're ridiculously happy for me. They've been constantly telling me how proud of me they are. Actually, my stepmom has a career day for her school, and she invited me down to come talk about it."
At 18 years of age, Dakota's got a job and a script under his belt prior to graduation and he's building his skillset and experience day-by-day in preparation for the trek ahead.
So what's his advice for other Film Connection students on how they can make the most their time in the program?
"I say just stick with it. Don't give up on something if it's really what you want to do. There's always going to be something out there. Me, I got it really quickly, which is awesome, but it takes time. You have to put in the work for it."
* * * * *