Radio Connection student Gypsy Marie Fimbres:
Finds her heritage and her voice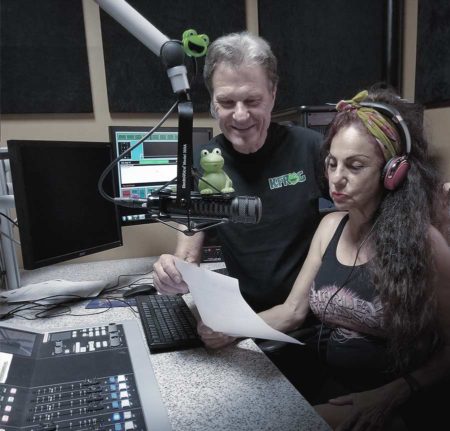 The journey into radio can be a winding road. For
Gypsy Marie Fimbres
, that road led from bartending to college, then to self-discovery.
Gypsy Marie first decided to pursue broadcasting while tending bar at some of L.A.'s famous haunts like Whisky-a-Go-Go and the Rainbow Bar & Grill. To her, it was a chance to share her infectious personality, humor, and to make a name for herself in the world. "Television and broadcasting news, I love it, but on radio I can be more relaxed," she says. "It's not so uptight. It's not so rigid. It's kind of like, do your thing. I like doing my thing and I like yapping."
Gypsy Marie says it all started with a bet with one of her best friends as to who would become famous first. Her unnamed friend went on to become a legendary rock star, winning the bet. Not to be outdone, Gypsy Marie went to Chapman University to study broadcasting, but as she approached graduation she became dismayed when she realized her education gave her no pathway to break into the business.
"Once I was done with Chapman," she says, "the professors and everybody [said] to me, 'Where do you want to go from here?' I go, 'Good question. I should be asking you guys this question instead of you asking me.' They go, 'Good luck.'…Hello? Where do I go from here? Do you guys want me to finish paying this tuition with no work?"
At this point, her path into broadcasting took an interesting side turn, with an opportunity coming from an unexpected direction. During an exercise at an anthropology class at Chapman University, Gypsy Marie discovered she was one-quarter Native American, of the Pascua Yaqui tribe, and that her grandmother had played a key role in the tribe.
Over the coming months, she took the initiative and got a spot on a Native American internet radio station with a small, yet dedicated demographic , what she calls "a good learning and launching pad…You know, you can make mistakes and you can be able to go on and talk and stuff. So it got me to get my stuff together. Then I started putting my resume and tape together."
From there, she says she made contact with Yoemi Radio, KPYT-FM, the radio station of the Pascua Yaqui reservation, and spoke with the station manager, Hector Youtsey. "I went to the reservation," she says, "and I called up Hector and said, 'Hey, I've got my own little radio show already. I'm used to the mike, so it's not like I have stage fright here. So I'm ready to rock and roll.' So he goes, 'Come on down to the studio.'"
That opportunity led to regular visits to the reservation to appear on the radio show, but Gypsy Marie soon found its limitations. "That's what kind of opened up the door for me," she says. "[but] I wanted to look for a bigger market, and I kept on hitting stone walls, stone walls."
That's when she discovered the Radio Connection. When Gypsy Marie found out she could train on-the-job with a working radio professional, she saw her opportunity to get the skills and connections she would need to connect with a larger market. She decided to enroll, and was placed with Radio Connection mentor Marshall Thomas at
K-FROG 95.1-FM
in the San Bernardino area.
"I love Marshall," she says. "He is down to earth, and what I like about him, he pulls no punches with his criticism, which only makes you better."
Gypsy Marie says her experience with Marshall has also helped her improve her game. "The foundation that he has guided me through was really awesome," she says. "He showed me some really good, cool vocal/voice exercises to do, warmups before you go on air. "He got me on his herbal diet…because of the fact that he wants my vocal cords to be slick and he wants that sultry voice…He showed me how to prepare, write, and get my stories together."
Now focusing more fully on her career, Gypsy Marie is still learning more about her Native American roots and even has plans for an upcoming documentary with her former anthropology professor about her discovery and the story of how she found her family. In the meantime, she continues turning her goals into reality one step at a time.
"I want my star on Hollywood and Vine," she says. "I want to be able to do a lot of cool things and give back to the community… I want to be able to get out there to a large, large audience."
* * * * *