Recording Connection student Jordan Rodgers
gets her dream back on track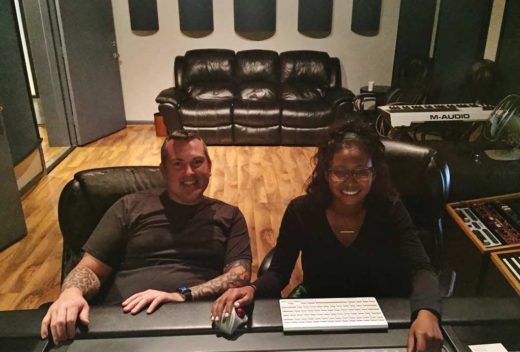 A few months into her apprenticeship at 713 Studios in Houston, TX,
Recording Connection
apprentice
Jordan Rodgers
was approached in the studio by her mentor, Ricky Rich, with a rather odd question: Why wasn't she working a job on the side while going to school?
"Because then I wouldn't be able to come here,"
she replied.
"I know it might sound bad, but I'd now rather focus my time here."
Ricky left the room, and 20 minutes later came back with an offer to hire her as an office assistant while she continued apprenticing. Jordan was overwhelmed.
"I think he knew I would say yes because I told him the only reason I'm not working is because work takes me away from here,"
she says.
"It's like a win-win for me. I get to be here, work, and learn. Like it's a little dream for me."
Ricky's job offer was particularly significant for Jordan because as a young single mother, she was truly making a sacrifice by not working a paid job in order to pursue her dream—a dream that almost didn't come to pass.
Jordan recalls being musical from a young age, picking up piano, drums and guitar by the time she was a teenager, and dreaming of a career in music. But everything changed when she had her son at age 16.
"I wasn't able to continue my music dream, like it was completely cancelled out,"
she says.
"Having a child is a very, very big thing…there was nothing but work, work, work, work, work."
From fast food to retail to desk jobs, Jordan worked the grind for several years until her mother started pressuring her to go to college to prepare for a better career. But when she went to enroll at Houston Community College, she had an epiphany.
"I actually got there a little bit early,"
she says.
"I was walking around campus, and I just… I just could not feel myself being there. I was like, Jordan, there's no way you can do this. You're going to waste your time. You're going to waste your mom's money. There's no way you can do this."
She went home and had a serious conversation with her mother.
"I told her, 'I'm tired of chasing money. I want to chase my dreams now. Give me the chance to chase my dreams. If I make it, I make it. If not, then I will go back, suck it up, and do that whole college stuff, and get me a desk job or whatever'…I think at that point she realized music was my thing."
They started looking in a different direction, checking out different audio schools in the area, when Jordan says her mom discovered the Recording Connection and the opportunity to learn in a real recording studio. After talking to the admissions counselor, she decided to enroll.
Jordan didn't take it lightly. From the very first day, she was determined to be a sponge and soak up everything she could.
"My first day, Ricky kind of did a little walk-through with me and other two apprentices,"
says Jordan.
"At the end of that, he was like, 'You know, you guys are free to do whatever you want. You can leave or whatever'…I was like, 'Well, I'm going to go with the other kids and figure out what they're doing.' The other two, I think, they went home that day."
It was that early sense of commitment that quite possibly led to Jordan getting hired.
"I was doing like all those different jobs,"
she says,
"from fast food, to retail, to corporate America—your typical eight-to-five desk job, the thing that everybody supposedly wants. But really, like I don't want that. And like going through all of that, I realized that this is where I want to be. I think that's what Rick saw, and that's the reason why he brought that opportunity to me because he realized, I don't want to be anywhere else but here."
Today, between her job responsibilities and her apprenticeship, Jordan's dream is now back on track as she learns all aspects of the studio.
"In the end, I actually want to own my own studio,"
she says.
"Where I'm at now, you know, my foot's in the door. I'm officially an employee here…I just feel like being able to help Ricky out at the studio gives me that extra step and that extra information that I need to run a studio in the future.
"Sometimes I feel like this is too good to be true,"
Jordan continues,
"like it's happening too fast. I just started the program a few months ago and now I'm learning things on the business side. Not just the audio, the engineering part—I'm actually learning what it takes to book sessions, what it takes to bring in clients, about invoices here, invoices there, like all this stuff that keeps the studio running."
In Jordan's case, learning on the job has opened doors for her that she knows she would never have gotten in a college classroom.
"This right here, the program helps me get my foot in the door,"
she says.
"If it wasn't for you guys, I would not be working for Ricky right now. You know I'm really thankful for that."
* * * * *