'What is a Grind Opp?,' you ask? It is a job opportunity. A help wanted ad.
Shooting in Times Square: Film Connection student Evan Zentar's training helps him land a full-time job!
Film Connection
student
Evan Zentar,
he was getting ready to shoot a boxing match in Times Square for his employer, a combat sports production company that films MMA and boxing events that recently hired the 20 year old as a full time camera op/editor with a salary enviable for someone ten years older.
"Every month we have this, it's called Broadway Boxing,"
says Evan of the boxing gig.
"They tend to move around all over New York. Sometimes it's at the Aviator in Brooklyn. Or at MSG [Madison Square Garden], we've done a few shows up there."
Of course, Evan's passion and drive have played a huge role in his early success. His interest in film/TV began in middle school, he says, and just kept going from there.
"I got to high school and started working for the school district's little TV network,"
he says.
"From there, I went to community college, got an internship at a combat sports production company, so they did basically the MMA fights and boxing stuff in the area. So I worked there for about 8 months for free, and then they hired me."
Even so, Evan wanted to up his game—but he didn't want to spend the time or money to go to an expensive film school. That's when he found the Film Connection could get him on-the-job experience.
"I started Film Connection back in June because I wanted to start working in movies as well as television,"
he says.
"I came from TV, and a lot of basic ENG style of filming, it doesn't get as in-depth with lenses, and what an F-stop is, and what a C-stand is, and all these different pieces of equipment. I had no idea what they were. I didn't have any contacts. And so I really wanted to get to know people and branch off and get more work by doing."
Given his interest in film, Evan was placed as an apprentice with Nick Esposito of
Backseat Conceptions
in Philadelphia, PA. From his first meeting with Nick, Evan realized he'd made the right decision for his career.
"I walked into his office,"
he recalls.
"I shaved for the first time in months because I thought, 'I'm going to meet some film guy, I should look like a professional,' so I shaved. And then I went in, and then we talked…he was like, 'What's your background?' I told him what I did.
He was like, 'All right, great. I want you to work for me. Basically we're going to be doing some movies coming up…We're doing movies. A lot of gigs.' I was like, 'All right, cool.' So I got what I paid for. I came here to do movies, and here I am doing movies…Since I've been in Film Connection, I've done one feature and two shorts, and I'm getting on another feature in April."
Since starting his apprenticeship, Evan has been very impressed by the caliber of the company and his mentor specifically.
"Nick's a great guy,"
he says.
"He's not this kind of PC, 'Everybody is equal, we should all do this together, and let's make a big learning experience out of it.' It's like, 'All right, here's what we have to do. Get it done. You have this long to do it.' He runs it like it's a real set."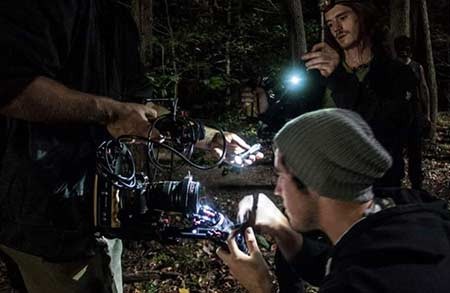 Evan says learning to shoot from a film perspective has already helped improve his production value, as well, and it even impressed his boss at the combat sports company where he continued to work.
"If I look back on it now, I knew nothing compared to what I know now,"
says Evan.
"I had a basic concept of it, but I didn't understand shooting in 24p, or 30p, or 60i. I didn't understand the difference…Just being in Film Connection made me do all these, 'Oh my God, I can make a low budget TV production look like a high budget TV production if I turn my shutter on and set it to 1/250.'..After I had done this stuff to my cameras and stuff at the office, my boss was like, 'Holy sh*t, what have you done?' And it all looked great."
And that's what led to Evan's new gig—the one where he now gets to shoot and edit boxing in Times Square.
Now at the point of completing his apprenticeship, Evan hopes to expand his work in film. A fan of war movies, he says he's currently working on a script of his own about World War II, and he will be on the set of a new feature film starting next month. He says juggling filming around his new job is a bit of a challenge, but they are giving him the flexibility he needs to make it work.
"I just did this whole film thing [with Film Connection], and I'm going to have a full-time job in television,"
he remarks.
"But they're still letting me go and do movies and stuff when I want to, which is pretty cool."
And so, at the ripe young age of 20, Evan is well on his way to a long and rewarding career. Given the choice between four years in film school and going to the Film Connection, he knows he made the right choice for his future.
"I'm not $240,000 in debt because I [went] to NYU,"
he says.
"I was, like, 'All right, maybe I'll make a $10,000 investment, do Film Connection, and see what happens.'…I just saved so much money, and I got to the same exact place faster."
* * * * *
When we recently caught up with