Film Connection student Jacob Sizemore Gets in, Gets Working in Film and Video
Jacob Sizemore
(Dallas, TX) started thinking seriously about a career in film, TV, and video production. He wanted to set himself on the path to earning a living doing commercial jobs by building his own production company with the ultimate goal of making his own movies.
First Jacob first needed a film school he could afford, one "that had a primary focus on film school or just film in general," he says, and when he found Film Connection online, "it looked like it was going to send me right into the field of film, and that's why I joined. Thankfully, that's exactly what I got out of it."
In his student blog, Jacob talks about how busy he's been since starting his externship with Film Connection mentor Deen Olatunji: "I went from casually messing with a RED camera to directing, acting, editing, and writing several films, music videos and TV series in the span of about 3 months. In short, this is the most intense, stressful, and fun time I've ever had making films."
In fact, when we caught up with Jacob, he was still going strong and was right in the midst of capturing some B footage for his mentor's TV show pilot, a comedy he describes as dealing with "Nigerian culture integrating into America and how the two different cultures collide."
Speaking of the project, Jacob says, "We're almost done shooting it. We got done with the primary shoots. We're doing some B footage right now are starting the editing process."
Having already completed a "nostalgia-based music video" which was shot, directed, and edited by Jacob himself,
prior
to coming to Film Connection, he came in ready to hit the ground running. Thanks to our flexible approach, that's exactly what happened. Jacob's first days in the program were spent assisting his mentor Deen and the crew on wrapping up a commercial project for a local church, shot on RED cameras. Once that was completed, he assumed the post of co-director and camera operator on the TV series. And, as is the way in film, coming up with solutions on-the-fly was a skill he had the chance to sharpen, day after day. He and the DP, Film Connection graduate Noah Cook soon came up with a system for making sure they could get their shots without running behind schedule:
"When we were on set we would come across camera angles that are really awkward or the location wasn't as visually appealing as we thought. So the DP and I had to get really creative with the environments…We would get on set early, and say, 'Okay, this isn't going to work, this isn't going to work, this isn't going to work,' and we would light them a certain way…The entire experience of shooting was incredibly exhausting…but it was fun."
And that's not all. Jacob recently completed his own short film,
These Lost Souls
, which Deen helped him produce. Described as a "post-apocalyptic mystery adventure suspense thriller" Jacob says he wrote the script without paying much attention to budgetary concerns. So when Deen greenlit the project, Jacob had to find creative ways to make his movie for a fraction of the cost he'd laid out in his original budget. He, Noah, and a number of Film Connection students got super creative, quick:
"We filmed at Noah's parents' house, which is basically just hundreds and hundreds of acres of land with several large houses we could use, and it makes the whole entire film look incredibly expensive when it really [didn't cost] too much…I hired and interviewed several actors, one of which actually was in
Black Panther
recently."
Jacob says directing on such a large project really pushed him to get out of his comfort zone and step up to the plate:
"The entire shooting experience was above and beyond anything I've ever done before. I was used to directing [on a] very small budget with very few people…but this film required a lot of people on set and required two camera operators and several other people who had control of lighting, sound, and I had never, ever attempted to control that many people before, including the actors who were basically all relying on me to get my crap together.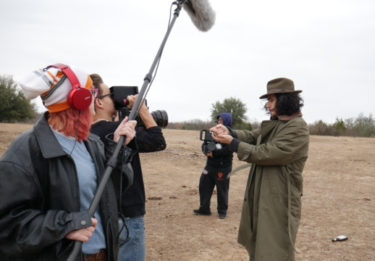 Despite the challenges Jacob and the crew pushed on:
"Weather was crappy, stuff went missing, actors showed up late. But we all got it done, and I am very, very, very proud of the final product that we finally shot. I'm actually editing it right now, and it's looking really, really good."
Now, having recently completed Film Connection, Jacob is the proud owner of his own production company and already has a number of projects on the slate, including another music video and a commercial for a local business. He's also in the process of writing his next screenplay.
With his ultimate goal of owning his own production company and making his own movies fast coming into focus, Jacob is glad he made the choice to expand his filmmaking knowhow in a hands-on, industry-oriented manner:
"Joining this program has basically gotten me very, very comfortable with working with a large group of people, with getting familiar with the delicacy of shooting a scene…Basically the Film Connection opened a 'crapton' of doors for me and I'm infinitely better than what I was. I'm not saying I was pitiful or anything, but compared to what I was, I am immensely more well-educated in the filmmaking process. It's been extremely, extremely helpful."
* * * * *
During his senior year of high school