Rewriting the script: Film Connection student Adam Howell seeks to break stereotypes in horror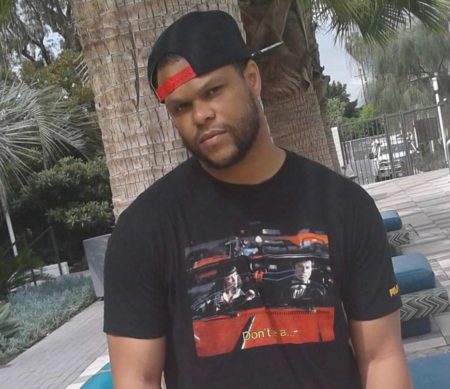 Spend a few minutes talking with Film Connection student
Adam Howell
, and you'll soon discover his passion for film—most notably, horror and thriller films.
"A lot of my favorite horror movies are from 30-40 years ago," he explains. "Some of my favorite horror films are from the 70's. When you talk about
The Exorcist
, that's still probably number one of all time…
The Omen
…
The Shining
…you know, psychological type horror."
As a Film Connection student apprenticing with Jonathan Rizzo in his hometown of Boston, Massachusetts, Adam soon turned attention toward screenwriting, and in particular toward breaking some of the long-held stereotypes of the horror genre.
"I just really am disappointed with the current state of horror," he says. "When you talk about a lot of films, in the past, they've just been exploited because of the genre and everything like that, and people don't really necessarily take it seriously. [With] me being an African-American man, I could never really get with how blacks were portrayed on screen in horror…I just wanted to bring a different, fresh perspective… like, let's put a diverse urban environment with some modern day type of horror, and just try to give people something fresh, because a lot of moviegoers really do want to see something different."
Adam isn't just about reframing African-Americans in horror either. "I also want to [write] women from all different backgrounds, as very interesting characters," he says, "because a lot of times women are so limited to playing just a one-dimensional type of character, even if they are someone's girlfriend or mother."
One thing that perhaps motivates Adam's interest in breaking these stereotypes is the way he views horror/thriller films in general.
"The horror in the stories I write is actually more of the backdrop," he admits. "I believe at the end of the day, it's always about character and the everyday drama that the person's going through that's going to grab somebody and hold onto them…When you really identify with a character on a human level and just understand what they're going through, it's all about having that empathy for that person and being able to see them through their experiences or through their struggle, and basically hoping they pull out of it…I say all the time, 'If you're ever rooting for the bad guy in a horror film, you've made a bad movie.'"
In a way, Adam's own journey into film represents a breaking of stereotypes in that he didn't grow up dreaming of a film career. In fact, he came to this path in a more sideways manner.
"I was working for the MBTA in Boston, driving trolleys," he says. "I had a secure job, a retirement plan, and pension and everything like that, but there was just something that was a little bit unfulfilling. There was this big gap inside of me…It's funny because I never actually thought about pursuing film, but I've always been in love with it. I love movies, I love storytelling and everything like that, and it just got to a point where I was saying, 'You know what, I'm not really happy. If I'm going to be doing something, I need to just go at something that really makes me happy, that gets me out of bed in the morning.'…My girlfriend actually kind of pushed me. She was very encouraging in the process because she understood how much I love film and how much I lit up when I spoke about it and she said, 'You should go after that. You should try to do it.'"
Adam made the leap and enrolled in the Film Connection, where he not only learned the ins and outs of working on the set, but he made a connection with his screenwriting mentor, Steve Johnston.
"The thing I like about it is that the people that are actually doing it aren't as cynical about it. They'll tell you straight up, 'Listen, this is not easy, because if it was, everybody would be doing it, but it's very rewarding if you just stick with it.'"…Basically my screenwriting mentor told me to just keep at it. I think he admired the fact that I had actually done it and I don't need anybody to tell me when to write or how much to write. I treat it seriously like an everyday type of job…He's been very helpful with feedback on my scripts."
Recently, Adam's passion for film led him to take another huge leap: a move to Los Angeles to make more connections. On this topic, Adam also has a clear sense of purpose.
"I'm looking to try to extend an olive branch to somebody else and say, 'What can I do for you?'" he says. "A lot of times people are always looking at what somebody can do for them…It's not really genuine. They just want to get what they can get out of somebody and all that. I'm more about the long-term type of thing where it's about building relationships and trust."
From these beginnings, Adam has a long-term plan of starting his own production company to produce the kinds of horror films he believes need to be made. He says he's particularly inspired these days by
Blumhouse Films
, the company who has released recent hits like
Get Out
and
Split
.
"I really admire what Blumhouse did when they started out," he says, "and how they've progressed and built that studio over the years, and how they're really focused on creating low budget types of horror films that are going to stand the test of time. I mean they're doing a hell of a job over there."
* * * * *