Recording Connection grad Billy Gardella gets hired and promoted at his mentor's studio!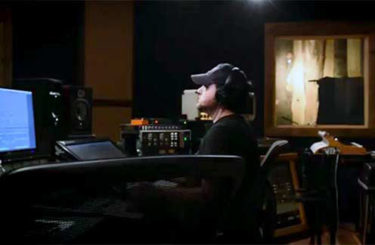 For Recording Connection grad
Billy Gardella
, passion and persistence continue to pay off, even after graduating the program. Not only did he end up getting hired at his mentor's studio,
Factory Underground
in Norwalk, CT—he recently got promoted to staff engineer!
"After I finished my program…I really stayed dedicated," he says. "Through all my hard work I was able to secure a position as an assistant engineer, and now I've recently moved up to an engineer."
Billy stresses that his achievements came at a price, as he worked hard to make himself an asset at the studio. "I did everything that I possibly could do," he says, "overnight sessions, coming here even when I was working another job, the restaurant job that I had. I was either coming here before or after my shifts, I was working seven days a week. Anything that I could do to get my foot more into the door, I did. And it paid off."
Billy always wanted a career in music, but he wasn't sure how to get in the door. He struggled for a while in the typical college setting until his sister found the Recording Connection and told him about it.
"She just mentioned it to me," says Billy, "because she knew I was at a community college, just a regular plain old college, and I wasn't into it at all. My family knew that; they could see that it wasn't for me. I was struggling because I had no passion for anything. I was literally going just to go, to make other people happy. And she mentioned it to me, I looked into it, and I thought, Why not? It could be a great way for me to get my foot into the door into something I loved."
Billy was placed as an apprentice under Ethan Isaac at Factory Underground, but he says Marc Alan and Kenny Cash also mentored him greatly there. "As soon as I came here, it was almost like I got inducted into the family," he says. "It's like all the people that I work with here are more than just coworkers. They're like a family to me."
One of Billy's most notable memories was when Ethan took him along on a road trip. "He actually took me on tour with him to South By Southwest in Texas," he says. "So I got to experience road life, shows, being on the bus, going down into different places, and setting up and performing in different venues. So that was really awesome."
After drifting in college, Billy came to life once he got into the studio, showing up and working hard, even willing to do menial tasks like cleaning bathrooms because in his mind, it was all about making the clients comfortable.
"What I really learned is that comfort is key," he says, "because you could have the best singer in the world in the vocal booth, but if they're not comfortable with the situation they're in, they're not going to give you a great performance…People say that your bathroom is like 80% of your business. That's got to be the case at a studio, too. Someone comes here and they go into the bathroom, and if it's disgusting, they're not going to want to come back here. So it's really everything, keeping the space up."
Now happy in his newfound career, Billy says he's had the opportunity to meet and/or work with a number of high-profile artists—among them, Nile Rodgers, Sid Wilson from Slipknot and Martin Barre of Jethro Tull. "It's always great to meet people who have that type of clout who are down to earth people and are easy to work with," says Billy. "It's refreshing. They might have gone Platinum, but they're people too."
Now happy in his newfound career, and enjoying his recent promotion to staff audio engineer, Billy's main advice for other students is to dive in with both feet and make the most of the opportunity. "It's all what you make out of it; it's all passion," he says. "I've seen people come into the studio, do the Recording Connection and not even finish the program. Even if they did finish the program, not do anything with it…It's really up to the person who's doing the program, you know, the student, the person who is trying to make a career for themselves. It's all work ethic and passion…It's either this or nothing for me."
* * * * *