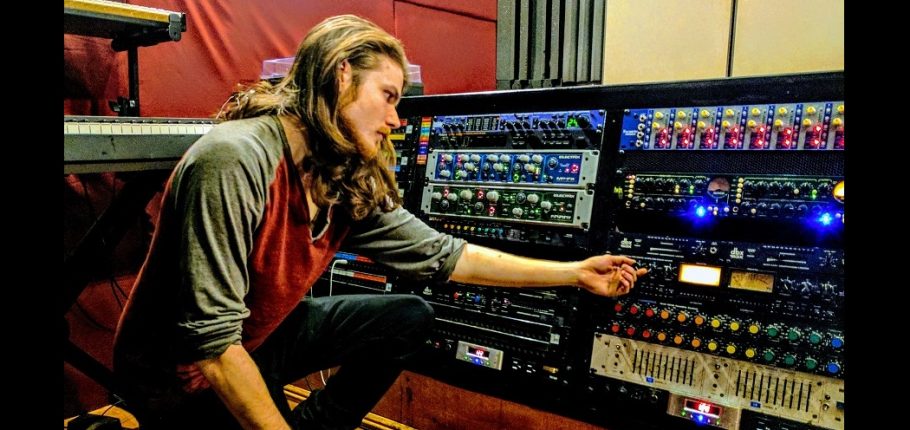 When asked how he found Recording Connection, Scott Johnson says, "I had been in college doing a lot of stuff, but I knew that wasn't leading me towards anything I actually wanted to do. So I left and did Recording Connection instead. And so far, it's been working out for me."
Perhaps the words "working out" are just a bit of an understatement. Scott's been hired by his mentor, Steve Catizone, and just got his first recording credit, working with pop star Charli XCX!
When asked what it was like working with British bad girl Charli XCX, Scott has nothing but nice things to say. He seems non-plussed about her status while also being impressed with her talent as a musician:
"She had a mostly finished song already, and she wanted to do ad lib tracks, and it was all vocals. So it was ad-lib tracks and a bunch of stacks for the vocals, for the backgrounds and stuff. And then she ultimately decided that she didn't like the chorus melody she had, so she rewrote the chorus on the spot and then we re-tracked that with all these double harmonies, and everything, so she could bring it back to the producer."
A graduate of both the basic audio engineering program and the advanced, Scott was able to tailor his education to suit his needs by training with two mentors. For the beginner's he trained with Steve Catizone at Infinite. Once he'd graduated, he decided to move back to Manhattan, where he's originally from, and do the advanced program under the tutelage of mentors Mark Christensen and Mike Bader at Engine Room Audio. But prior to leaving Infinite, Scott was smart about setting himself up for future success upon his return. He says, "I knew I wanted to go back to New York for a little while, just because I'm from there, when I finished up the program. So I told Steve, 'Look, I'm going to go do the advanced program down there but I'd love to come join the team when I come back up.'"
By maintaining existing connections and even making new ones, by the time Scott graduated, he had not one but two jobs waiting for him. Now, Scott's got two jobs in audio: one working as an assistant audio engineer with Steve at Infinite , the other working as a contractor doing live audio with a busy local event production company, working as part of the local crew for notable acts like Mark Anthony.
When asked about what he's learned, right off the bat Scott had a simple but important answer. "One of the things that I realized while doing Recording Connection is how important things like vibes and environment are to art. So I'm very careful about how everything is in the studio, and making sure that they're comfortable when they come in. And usually, as long as you're cool, and calm, and relaxed, and you put them in a cool, calm, relaxed environment, and you just make sure that they have everything that they could need, I find that you can come up with some pretty good takes of them pretty quickly."
For Scott, getting into actual recording studios via Recording Connection and building skills and connections in-tandem was the answer for him:
"For me, it was just seeing how things run. Just being able to practice it in a real world setting made a huge difference than just trying to find random stuff online, find multi-tracks to mix, and things like that. And also it was big for just building relationships, you know? Like I don't think I'd be working for Steve if I hadn't done this with him because he knew me, he knew that I had enough people skills to work with clients, and he knew what I was capable of audio-wise."
Scott Johnson left a path that wasn't serving his interests and opted to follow his bliss. Now, he's gainfully employed and is building his career step by step. So what's Scott's advice for making the most of one's externship? He says:
"Honestly, you just got to like live and breathe it, you know? Like the people I've seen do well did the same thing I did. I just loved it and I did it all the time, and I cared. You just got to put in the effort. You got to come in, you got to ask questions, like don't just sit there and have your mentor just talk at you—be engaged and figure out what it is that you want to do, at least generally if not specifically, so you have some sort of path to work towards."
Go the distance, work hard, figure out your path, and maintain those connections you make with the pros! Do what Scott did and get those jobs lined up.