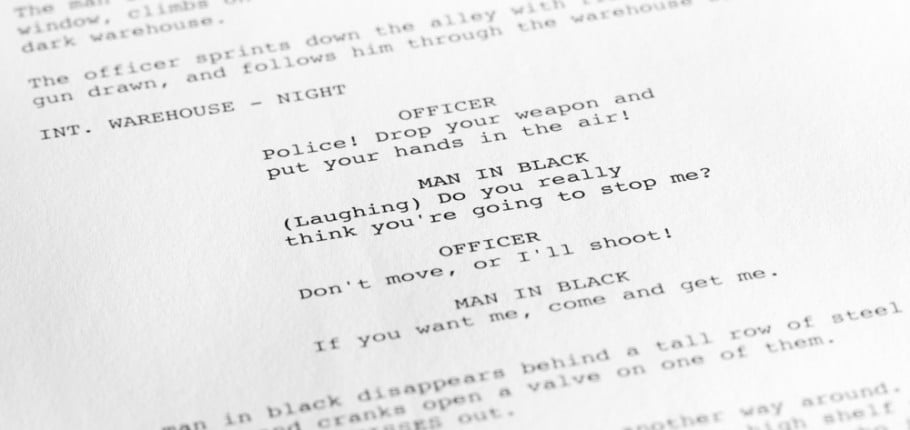 Competing against a bunch of faceless writers is thrilling in itself (strangely so, for some of us). But getting your work read and evaluated by more of the very same people you want to read your script–well, that's the real prize in a good script competition. Getting read professionally can greatly help your career and have a positive impact on your writing sensibilities. For some of us, having others take our work seriously is just the vote of confidence we need to really and truly believe in ourselves.
By submitting to screenwriting competitions you're guaranteed to get your work read. You're also guaranteed a deadline. Getting read and receiving feedback in most cases, is undoubtedly, crucial to the writer's education. Which feedback we take and which we ignore is up to us. Nevertheless, a good note is a good note. Most writers who are honest in their treatment of story will feel the truth of the notes they need to implement. For this reason, besides being scary, getting feedback can be a very good thing. It enables us to see what's lacking and what's good, great, or different about our work. It also enables us to regain a sense of perspective, when and if we've lost it. And as any writer who's gone through the long slog knows, that can be a very precious commodity indeed.
So…want to get serious about your career as a screenwriter? Need a good ol' kick in the rear? Submit to a contest or two. Get read and see the feedback you get on your project. Do well and you could win a prize, or in some cases, get your movie made! Plus, once you pick a competition, you've just set yourself a deadline. Love them or hate them, deadlines are like magic for most screenwriters. Use your time well. Plan on it taking you forever to get into the zone, where you're rapt within the writing process. Once you get there, you won't want to leave. And clean it up before you send it in. Fixing for typos is just common courtesy for filmmakers. Stick to your deadline and submit. It's all part of the learning experience. Do it.
1. BlueCat Screenplay Competition

BlueCat is one of the premier screenplay competitions. It's stated goal is to foster new and undiscovered talent and to help them grow into fully realized artists. They supply every applicant with a written analysis of their work and they offer support structures for writers looking to learn more about the craft of screenplay construction.
($40) Early Entry — September 1
($50) Regular Entry — October 15
($70) Final Deadline — November 15
($50) Resubmissions — December 15
2. Launchpad

Launchpad holds three competitions yearly. Features, pilots, and manuscripts. They provide a forum for individuals to showcase their works and hopefully find representation.
Features competition:
($75) Regular Entry — Ends August 14
($85) Late Entry — ends September 6
3. VisionFest

Vision Fest is an experimental music, film, jazz, and dance festival. They have helped birth a multitude of exciting and avant-garde creative endeavors. If you're a left of center screenwriter, this might be the place for you to send your work.
($65) Late Entry — July 15
($85) Final Deadline — August 30
4. CineQuest

CineQuest is a well-known festival that not only has a great screenwriting competition but also hosts panels on writing for film with the likes of Neil Gaiman, Laurence Kasdan, JJ Abrams, and Diablo Cody.
($55) Regular Entry — September 23
($60) Late Entry — October 14th
($65) Final Deadline — November 4th
Remember, finding the time to sit down and write your stories is only half the battle. Creating characters, crafting stories takes time, patience, work and the imagination within you. But the writing itself is not enough. You must get your work read. Make getting read part of your discipline. Embrace the battle of writing scene by scene and seeing the movie in your mind. Write that screenplay and get it read.
More info about screenwriting.
Read more film and DIY tips.
FC grad Rob Chiola teaches film students.