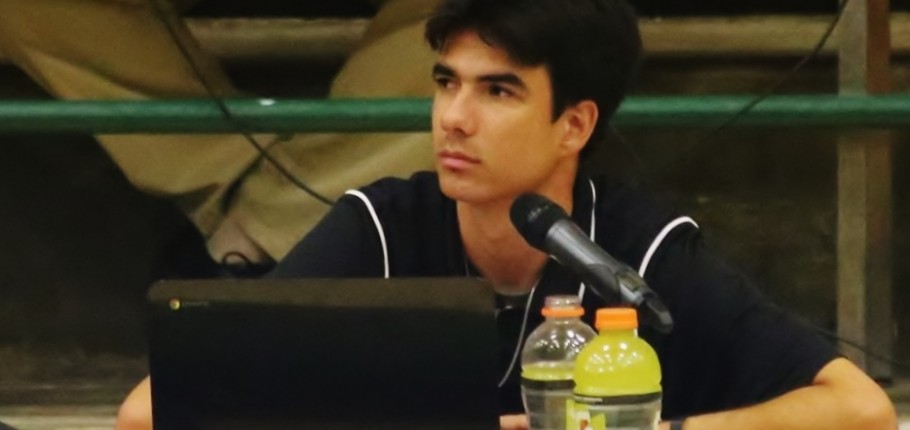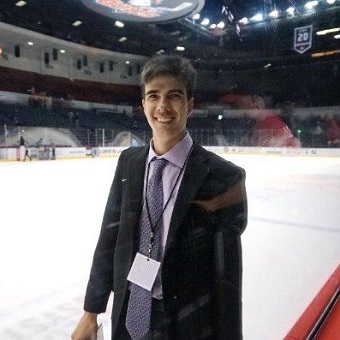 From an early age, it was clear that Callan McClurg had a natural passion and talent for the microphone. He recalls that as a kid he would practice announcing his brother's little league games, and even the games in which he himself was playing. "I'd get yelled at by mom and dad and my coach, like, 'Man, play the game, don't announce the game!'" he says. "But that's just where my love for broadcasting came in."
After high school, Callan started searching the web for broadcasting schools and found the Radio Connection. The idea of learning on-the-job immediately appealed to him. "I said, 'Dad, you might want to check this out.' Just seeing everything that they offered…actual in-studio time, on air time, at your own pace, you can go as fast or slow as you want…We were locked into it."
Even with Callan's natural ability, he quickly found a steep learning curve when he was placed with Radio Connection mentor Chris Torrick at KRLY 107.9-FM "The Mountain" in the San Diego area. Chris is a big believer of blessing by fire," says Callan, "and he put me behind the mic my first night. I winged an interview and stuttered through it at the open. But then once I got a flow and rhythm, everything clicked, and it became natural."
Realizing that talent alone wasn't going to help establish him as a broadcasting personality, Callan decided to leverage his status as a student learning on-the-job to fuel one of his passions: a love for the WNBA. He reached out to two WNBA stars—namely, Candace Parker of the Los Angeles Sparks and Candice Wiggins of the New York Liberty. To his amazement, both agreed to an interview!
Callan decided to take a unique approach to these interviews, which he posted on his YouTube channel, deciding to explore the human element rather than sports accomplishments alone. "These pro athletes, they don't get the chance to talk about growing up with their family and how they found their love for sports," he says. "And then they've been talking about their career, how far it's gone from high school and college and into the pros and what they want to do in their future."
Not only did both interviews go extremely well, but Callan says Candice Wiggins was especially complimentary. "After we had wrapped up our conversation, she said, 'This was the best interview of my career ever…You didn't ask the same questions that I hear on a day-to-day basis. You made this more of a personal connection'…That comment made me choke up a bit."
Since graduating from the Radio Connection, Callan has put his newfound networking skills to work in another way—this time, to find work. Through his connections, he's found himself in an extended gig doing in-arena and in-stadium announcing for Point Loma Nazarene University, as well as play-by-play for several of the sports teams! "I got the phone call, and it was one of the fastest yesses that ever crossed my lips," says Callan. "This was to be a chance for me to do what I do best."
Update: Callan McClurg is now also serving as the Public Address Announcer for the San Diego Gulls of the American Hockey League (AHL), the top minor league affiliate of the NHL's Anaheim Ducks!
Learn more about Radio Connection.