Running with it in Dallas: Film Connection grad
Noah Cook builds his reel!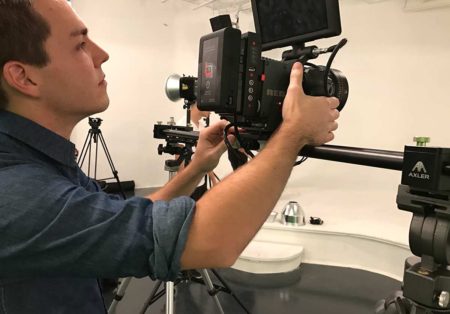 Like many of our emerging filmmakers,
Noah Cook
(Dallas, TX) first found the Film Connection after getting discouraged with other film school options.
"I actually almost went to a film school in Santa Fe, like a ridiculously expensive one," he says, "and I was looking into it, and the money seemed crazy. My dad had looked at a couple in the area and he was like, 'You should check these out,' and I was being super stubborn about it…I started looking at Film Connection…I did some googling and I found some Instagram accounts of kids going it, and it looked like it was legit. So I talked to my parents about it and called the school and everything, and it worked out super easy."
Noah was placed as an apprentice with Film Connection mentor Deen Olatunji of
Rehoboth Pictures
. From the moment he met his mentor, he says he knew he was in the right place.
"Right off the bat, we really clicked," he says. "I'm pretty shy normally. I don't put myself out there a ton, but Deen made that super easy. He, from the beginning, was just super open to everything. Anything you want to talk to him about, throw at him, he'll listen."
As it turned out, Deen had a few things to throw at Noah, as well—and it only served to galvanize Noah's commitment to immerse himself in the learning process.
"My first day, he had me crawling under a bed," he says, "…to be a stand-in for a serial killer. He was having me put on the costume, and right before I crawled under the bed, he was like, 'We're going to get along pretty well.' I was like, 'What are you talking about?' He said, 'You just threw it on and did it. That's what I need.' I was like, 'All right, I'm in.'"
From that point, Noah has gone on to become an integral part of the filming schedule at Rehoboth, working with his mentor on a number of projects, as well as serving as DP for a series they are doing for a local church.  He says Deen has also challenged him to start setting himself up for his own success.
"At the end of 2016, he sat me down one-on-one," says Noah, "and was like, 'Okay, this is what I think you need to focus on this year…I really think you need to try to make a few films and come up with a reel and make a website.' He said he wanted me to really get stuff together because he knew that if I really applied myself and made a website and stuff, I could market myself…He gave me a list of things he thought I should do for the year and just told me to run with it."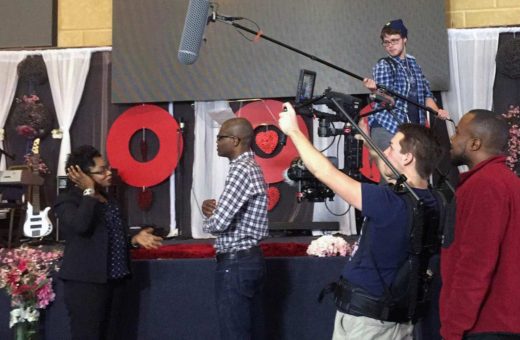 Since that time, Noah has indeed "run with it," starting with adding to his reel. "I actually just finished a short film that I directed a couple weeks ago," he says. "My dad had a really weird and interesting childhood, and there was a story he always told me about…his drunk grandpa… I always thought that was a great story. I went to South by Southwest and I saw this short film where it started out with some dudes talking, and then they showed the story. I was like, I really like that. I want to do something like that. So I had it where it was like me and my roommate. We were talking in a bar, and it goes into the story, and I voice all the characters and do the narration. So it's like I'm telling a story, but you're seeing it."
Meanwhile, although he's officially completed his apprenticeship, Noah continues to work with his mentor at Rehoboth on various projects while he looks at his own goals for the future. It's progress he feels he never could have made by going the expensive, traditional film school route.
"I learn way better when I'm just doing the thing, hands-on," he says. "When I found out that's what this was, I was like, okay, that was it…I feel like in a big university, it's super hard to stand out because there are 100 kids trying to do the same thing as you, and if you're not just the best, no one is even going to be looking. I knew I'd do a lot better in a smaller environment, because then I felt like I could get one-on-one with…my mentor and actually talk to them about stuff."
His advice for other students coming into the program?
"You have to see it as an opportunity," he says. "You're going to get as much out of it as you put in. You've been put with this mentor who has access to all these cool toys and spaces and stuff, and you have to get involved, or nothing will happen…On one project, do as much camera as they'll let you, maybe even just shadow the camera guy and, on something else, do some editing. I just think that's the biggest thing, with Film Connection especially, is just to really apply yourself.
"Don't get discouraged if you're not Quentin Tarantino after your first month," he adds. "You're going to make some stuff you don't like at first, and that is totally okay. You've just got to keep pushing and you'll get there."
* * * * *