Austin City Limits and beyond: Recording Connection grad Charles Kirkpatrick expands his reach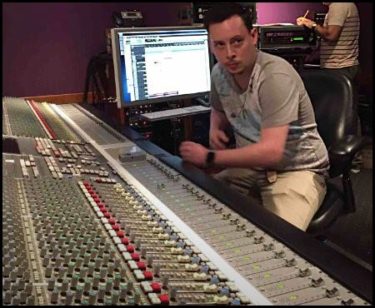 If you need proof of how learning on the job can open doors for your music industry career, take a look at
Recording Connection
grad
Charles Kirkpatrick.
His apprenticeship with mentor Kevin Butler at
Test Tube Audio
in Austin, Texas has led to multiple opportunities to work with Platinum-selling artists and Grammy winning engineers, including working live sound at the famed Austin City Limits!
Charles had already taught himself the basics of working in DAWs like GarageBand and Logic Pro, but he came to the Recording Connection to try and up his game.
"I didn't really truly understand signal flow, any outboarding, a lot of gear. I had no idea about converters or anything like that,"
he says.
"I originally went in just wanting to figure out how to make the cleanest, most beautiful recording possible."
When Charles went to interview at Test Tube Audio, he was immediately impressed, both with the studio and with his mentor, Kevin Butler.
"I was blown away,"
he says.
"I knew immediately it was a very comfortable… logical, and just super nurturing place to learn…[Kevin] really knew his stuff. He would take me outside and have me listen to things that flew over my head so I understood the sound reflecting off my shoulders, you know? My sister's a doctor, and I know more about the human ear than she does because of Kevin Butler."
While learning from Kevin in the studio, Charles connected with other pros who were more than willing to teach him—most notably,
Matt Noveskey
, the bassist for alt-rock outfit Blue October, who was working out of the studio at the time to produce for bands he was bringing in. Charles says watching Kevin and Matt work together on sessions was eye-opening, to say the least.
"When we would record,"
he says,
"the combination of both of those guys, Kevin on the engineering part and Matt on the production side…Literally, in the middle of recording, Matt would lean down and turn the knob on the guitar pedal while this guy's playing. And it's just things like that that I never would have thought of. When I first started, I thought I was supposed to just press buttons and move faders."
As Charles completed his apprenticeship, he quickly discovered how much "street cred" he'd gotten by learning in the studio with Kevin and Matt.
"I just started sending [my] cover letter, resume, and letter of recommendation to every studio and broadcasting company from Dallas to El Paso, to San Antonio, to Houston,"
he says.
"I wanted everybody to at least know my name. And then before I knew it, I was getting phone calls."
Among the first calls he got was from Grammy-winning engineer Malcom Harper of Reelsound Recording, the audio company who handles live sound and broadcasting for the famed Austin City Limits TV series. Charles landed the gig and found himself working with the team recording live sessions for many major artists.
"We broadcasted the Bud Light Stage,"
he says,
"which was Florence and the Machine, The Roots, The Black Keys, Neil Young and Crazy Horse, Iggy Pop and the Stooges, Red Hot Chili Peppers…there was a ton of bands."
Along the way, Charles also began establishing a rapport with other local artists, some of whom now call for him exclusively. His relationship with Malcolm Harper and Reelsound has led to referrals and connections with numerous other high-caliber recording studios in the area, including Mesa Recording Studios just outside Austin, with whom Charles now has an ongoing relationship.
"I brought a lot of artists there, primarily hip hop artists. But I've also brought live musicians to make instrumentals and stuff,"
he says.
"I've done a lot of work at Mesa, and I'm invited to every party they throw. I'm a very welcome family member at Mesa Recording Studios."
Most recently, Charles began expanding his reach further, making a move to San Antonio, Texas, where he's now in the process of building relationships with some of the other studios referred to him by Malcolm. Meanwhile, he continues to freelance with Reelsound and Mesa Recording as needed, and he has a long-term goal for adding studio design to his new engineering and production skills.
"Another thing Kevin taught me very well was acoustics and how to design studios,"
says Charles.
"I want to design studios, I want to build the equipment. I want to be with the musicians, I want to be a musician, I want to be a producer, and I want to be an audio engineer. I kind of want to be Rick Rubin, if you will."
With his new career now well underway, Charles attributes much of his success so far to his on-the-job apprenticeship.
"I learned so much from those guys,"
he says.
"It was just a wonderful, wonderful experience."
* * * * *