Recording Connection student Jeff Pegno expands
his horizons, gets in at iconic NYC studio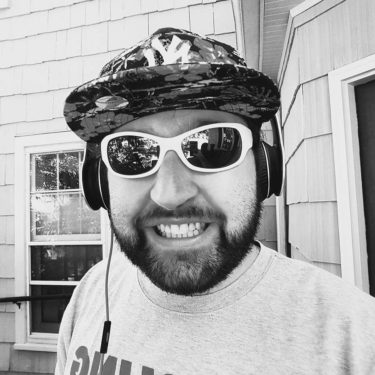 Recording Connection grad
Jeff Pegno
remembers the first time he walked into New York City's famed
Engine Room Audio
for his initial interview with studio owner Mark Christensen.
"I thought it was the most professional-looking studio I've been in,"
says Jeff.
"Mark showed me around the studio, he let me know everything that was going to happen with the learning processes…I knew going in was going to be very hands-on, and that's why I was excited to do it, as opposed to just sitting around in a classroom."
As a rap/hip-hop guy, Jeff found the
Recording Connection
online and saw it as an opportunity to learn more about the world of recording at a professional level. But as he began his apprenticeship at Engine Room with co-mentor Jeet Paul, the combination of a solid curriculum and hands-on experience pulled back the curtain for him in ways he couldn't have imagined.
"I love the curriculum,"
he says.
"I thought it was very steady, I thought it was thorough…it gets the learner to where they need to be in terms of recording in general…Jeet was one of my favorite people I've ever worked with in this music world. I think he's great…He was funny, he was informative, he was light-hearted, but he also knew what he was doing.
"Everybody talks about having to mix and master your stuff,"
Jeff continues.
"Music fans who hear 'mixed and mastered,' they know…that means that it's professional sounding, but they don't know what goes into that. And you learn that, as well as just working EQs and what certain levels do for each instrument."
Jeff says the apprenticeship also expanded his horizons past the rap world he knew, as he learned what was possible with live instrumentation, rather than the simpler "in the box" approach.
"It gives you more appreciation for the process in general than just loading up beats and writing raps,"
he says.
"That's easy; you can do that. It's comparatively easy to load up a whole choir, which I've gotten a chance to work with. I got a chance to set up a whole choir…they were recording something for ABC… It definitely left me open to the possibilities of what things can sound like, vs. just doing things one way."
As Jeff continues to work toward his music career, he's already finding his training opening doors for him as he landed an entry-level opening at the renowned EastSide Sound in New York, a long-standing studio with a client list that includes names like Sting, Les Paul, Mariah Carey, Jeff Beck, Beyoncé and many others.
"I sent my resume and a cover letter over,"
he says,
"and a week later they emailed me and they were like, 'Hey, we like you. Can you start work tomorrow?' I'm serious, that's how it went."
Now with his foot solidly in the door, Jeff is thankful that he chose the Recording Connection's on-the-job training over the classroom approach.
"I work better in a more active environment, which is what the Recording Connection teaches,"
he says.
"I'm glad I jumped forward with this one."
* * * * *