Hey L.A! – WIN You + 1 to see Joshua at the Fonda!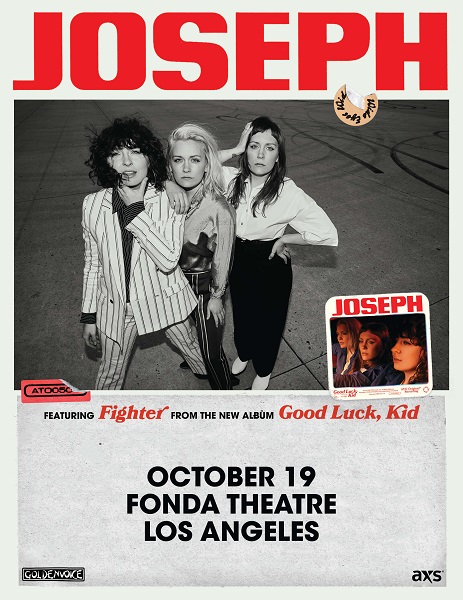 Goldenvoice + Mixed Feelings presents Joshua with River Run North, Saturday, October 19, 2019.
Doors at 8:00pm. Show at 9:00.
Purchase tickets
.
Billboard
calls
Good Luck, Kid
, Joshua's sophomore album, a "grittier, plugged-in and amped-up" sound over its predecessor.
Made up of sisters Allison, Meegan, and Natalie Closner—Joshua's international tour is hitting Austin, Antwerp, Paris, Berlin, and London and a slew of other metropolises throughout the U.S. and Europe.
Want to see them at The Fonda?
Get a place on the Goldenvoice list for YOU +1 to attend the show! Attendees must be over 18.
The first and second persons who do the following (exactly) by the deadline – 3:00pm Pacific Daylight time on Friday, October 18, 2019, will have their name + 1 added to the list.
Do the following:
1) Be the first to follow us here
@rrfconnection
on Instagram.
2) And be the first (or second) eligible person to comment "Joshua at the Fonda please #RRFC" on one of our Joshua-related posts on our Instagram account by the deadline (above).
ATTENTION: Each unique Instagram account can enter only once. We will follow you back and DM you to award tickets so make sure to check your DMs. If we cannot direct message you for any reason, we will award space on the Goldenvoice list to the next person who correctly follows these instructions. If you are deemed ineligible due to age, lack of ID, or any for other reason we, Goldenvoice, or the venue deems appropriate, or due to age restriction, we will award admission to the runner-up. Eligible to all students, graduates, applicants, and residents of Los Angeles County and Orange County, CA over age 18.
See you at the show!
* * * * *